PRODUCT
ELECTRONICS
COMPUTER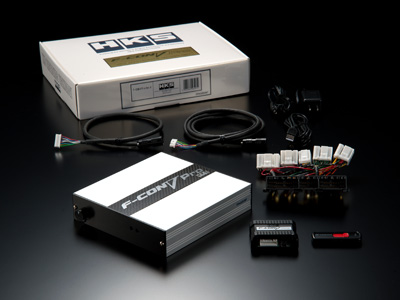 * Discontinued.

【F-CON V Pro Ver4.0 + PowerWriter Set】
Stand-alone Computer for High-level Professional Tuners.
Highly reliable and multi-function computer capable of high level engine management for high-level professional tuners.
Excellent hardware with many input and output ports, flexible software, and harnesses easy to fit are available. The electronic throttle control, valve timing control, A/F & knocking measurement are added to the functions available with Ver. 3.4.
OUTLINE
HKS' long-seller full engine management computer F-CON V Pro Ver. 4.0 is available as a set including Power Writer (PC software) and communication cables.
※F-CON V Pro Vehicle Specific Harness and other sensors are available separately as F-CON V Pro option parts.
More detailed and wider variety of parameters can be managed with this product.
※No base setting is pre-programmed. Settings according a vehicle are required.
※This product does not work on a vehicle without F-CON V Pro Vehicle Specific Harness.
FUNCTIONS
Fuel and ignition can be fully controlled.
Solenoid valves, relays and warning light can be controlled using option functions.
PowerWriter software enables output control and monitoring of engine parameters.
Analog Voltage Input
Throttle opening, water temp., air temp., and etc., 0 to 5V sensor can be input up to 20 channels.
A/F, Knocking Input
Connecting the A/F sensor (* option parts required) or knock sensor enables to measure the linear A/F or knock level.
Built-in Air Pressure Sensor
Air pressure sensor is built-in to provide stable control under various environment conditions.
Fuel & Ignition Control
Independent output control up to 8 channels, and sequential control is available up to 8 cylinders.
DC Motor Output
Controlling the electronic control throttle of DC motor type, which is widely used for the stock automobiles, is available up to 2 channels.
Other Output Control
Controlling the valve timing of HKS V-CAM system or stock system and boost pressure (※Option parts are required.) is available. Also, controlling the output up to 22 channels, relay, and warning notice is possible under an optional condition.
Built-in Log Data Memory
8MB of memory to save the log data is available.
FEATURES
To perform a hard level tuning from boost-up tuning, with new version of F-Con V Pro, data edit in real time that is not available by flash rewriting is possible, and setting workability is high. Also, driving data can be recorded using a log function.