PRODUCT
ENGINE
HKS COMPLETE ENGINES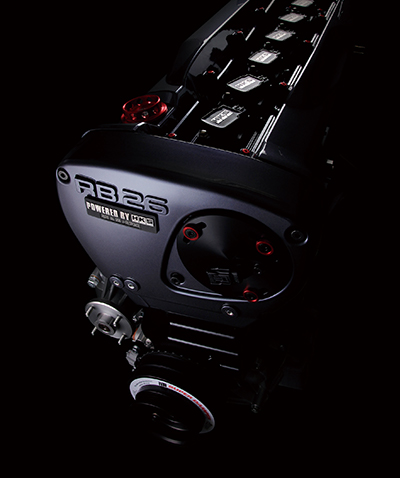 * Package includes crank angle sensor and ignition coils

【COMPLETE ENGINE for RB26DETT 2.8L HIGH RESPONSE】
Build by experienced HKS staff using N1 block and specially prepared parts, including bespoke crankshaft sensor and coils for ultimate engine response
Lightweight and durable parts such as piston, conrods and crankshaft for dramatically improved response
Titanium Retainer, Strengthened valve spring, High lift camshaft and strengthened stem seals, all were upgraded to sustain high power in high RPM range.
Crank damper is installed for improved torsional stability
CNC machined combustion chamber to decrease knocking
High-Volume Oil Pump to ensure lubrication of the engine on a whole range of RPM
Grommet Head Gasket and Strengthened Stud Bolts for improved sealing
* HKS recommends using HKS Racing Pro 10W50 engine oil.
Light weight A2618 Aluminum Alloy Billet Piston with high temperature strength

Specially developed crankshaft with minimized to the limits counterweights.

Enlarged to Φ22 lightweight pin to withstand high combustion pressure

Crank damper is installed for improved torsional stability

Titanium Valve Spring Retainers

CNC machined combustion chamber, cylinder walls to improve cylinder squish area.
To improve engine response the package includes a bespoke crank angle sensor and ignition coils.
Specifications
| | HKS 2.8L KIT | Stock |
| --- | --- | --- |
| Bore | 87.0mm | 86.0mm |
| Stroke | 77.7mm | 73.7mm |
| Compression (t=1.2) | 8.6 | - |
| Max RPM | 9,000rpm | 7,600rpm |
| Displacement | 2,771cc | 2,568cc |
COMPLETE ENGINE RB26 2.8L HIGH RESPONSE
Camshaft STEP2
HKS IN:264°/ LIFT 10mm
HKS EX:264°/ LIFT 10mm
Cam Pulley
HKS SLIDE CAM-PULLEY
Timing Belt
HKS Fine Tune Timing Belt
Spring Retainer
HKS Titanium (Weight:9.2g)
Valve Spring
HKS enhanced product
Stem Seal
HKS enhanced product
Valve
IN: Stock EX: +1 mm Sodium filled-Inconel
Port
Step removal around the seat area
Combustion Chamber
CNC machined combustion chamber
(with retained squish area)
Head Gasket
HKS Grommet S-Cooling gasket (t=1.2)
Code No. 23002-AN002
Head Bolt
HKS reinforced bolts
Block (24U) Details
Waterhole machining
Head bolt hole chamfering
Boring
Oil Pump
HKS enhanced product
Piston
HKS Billet Truss Construction
Connecting Rod
HKS Billet H-beam
Crankshaft
HKS Billet
Main Bearing Bolt
APR Reinforced Stud bolts
Main Bearing
ACL
Conrod Bearing
ACL
Crank Angle Sensor
Crank: 12 tooth / EXcam: 1 tooth
Ignition system
HKS SUPER FIRE RACING COIL Pro + NGK Racing #9
Crank Damper
ATI
Water Pump Pulley : φ146
Ribbelt : R32: 4PK875, 4PK910, 4PK925 /
R33&R34: 4PK875, 4PK895, 4PK950
Covers
Baking Finish