PRODUCT
ENGINE
HKS COMPLETE ENGINES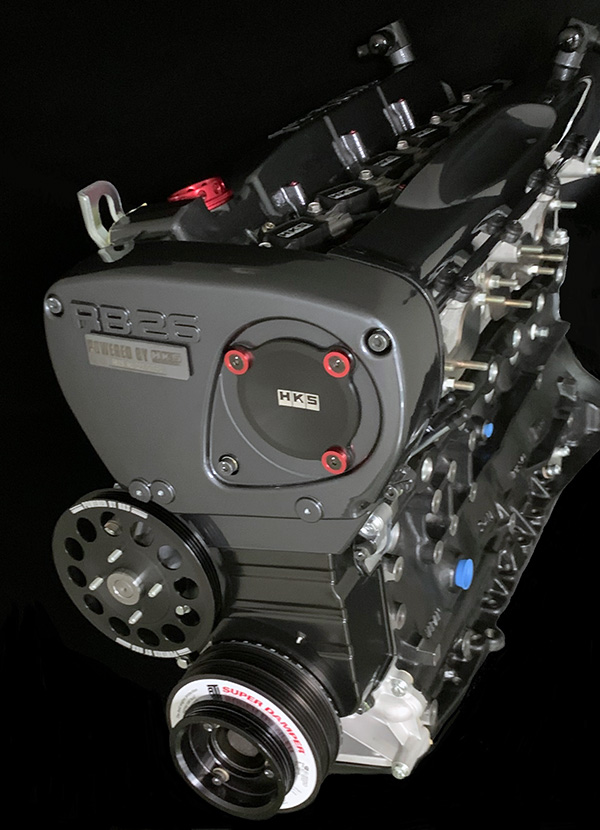 【COMPLETE ENGINE fro
RB26DETT 2.8L HIGH RESPONSE V-CAM】
RB28 HIGH RESPONSE ENGINE + V-CAM Pro to speed up the boost pressure rise and further improve response.
Achieved both light weight and high rigidity piston, con rod, and crankshaft with focus on response
V-CAM is used to supplement torque in the low RPM range for a big turbo.
The exhaust cam has 272-degree duration to ensure more power at the high RPM range.
Titanium retainer, strengthened valve spring, high lift camshafts and strengthened stem seals upgraded to sustain high end performance
CNC machined combustion chamber to decrease knocking
High-volume oil pump to ensure lubrication of the engine on a whole range of RPM
Light weigh, specially designed damper absorbs and counteracts the twist of the crankshaft
Specially designed 36-tooth crank angle sensor and cam angle sensor for V-CAM improve signal accuracy in the high RPM range.
NOTE: HKS recommends using HKS Racing Pro 10W50 engine oil.
High-rigidity lightweight billet piston made from highly heat resistant A2618

Special crank with the counterweight reduced to limit.

Lightweight D22 pin to increase flexural rigidity

Special cam cover baffle plate to efficiently extract the oil out of the blow-by gases

CNC machined combustion chamber that decreased combustion chamber volume smaller as much as possible and utilizes the squish area.

HKS Crank Angle Sensor
Crank: 36-2 tooth / V-Cam: 3 tooth

INTAKE : V-CAM STEP Pro
EXHAUST : STEP2 272°
Engine Specifications
| | HKS 2.8L KIT | 純正 |
| --- | --- | --- |
| Bore | 87.0mm | 86.0mm |
| Stroke | 77.7mm | 73.7mm |
| Max RPM | 9,000rpm | 7,600rpm |
| Displacement | 2,771cc | 2,568cc |
COMPLETE ENGINE RB26 2.8L HIGH RESPONSE V-CAM
Camshaft STEP2
HKS V-CAM STEP Pro IN: 264° / LIFT 10mm
HKS STEP2 EX: 272° / LIFT 10mm
Cam Pulley
HKS SLIDE CAM-PULLEY(EX)
Timing Belt
HKS Fine Tune Timing Belt Sport
Spring Retainer
HKS Titanium (Weight:9.2g)
Valve Spring
HKS enhanced product
Stem Seal
HKS enhanced product
Valve
IN: Stock EX:+1mm Sodium filled-Inconel
Head Modifications
Combustion Chamber: CNC machined (with retained squish area)
Port: Step removal and polishing
Valve Guide: Phosphor copper
Cam Clearance: CNC machined
Water Jacket: modification for improved water flow
Head Gasket
HKS Grommet S-Cooling gasket (t=1.2)
Head Bolt
HKS reinforced bolts
Block (24U) Details
Block deck resurfacing(Parallel to the main journal of a crankshaft)
Waterhole machining
Head bolt hole chamfering to prevent cracks
Finishing edge of cylinder
Boring D87
Oil Pump
HKS enhanced product
Piston
HKS Billet Truss Construction
Connecting Rod
HKS Billet H-beam
Crankshaft
HKS Billet Full Counter
Main Bearing
ACL
Conrod Bearing
ACL
Covers
Baking Finish