PRODUCT
ENGINE
HKS COMPLETE ENGINES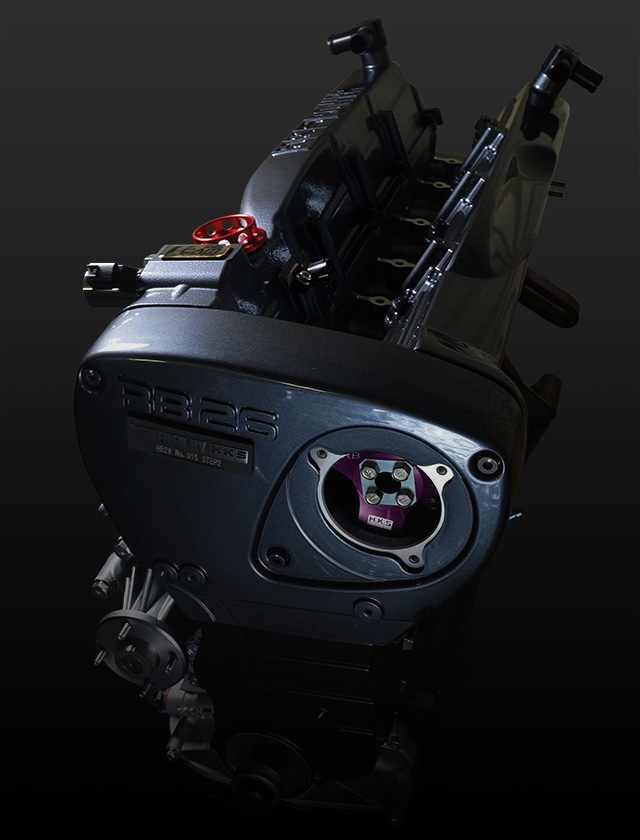 【COMPLETE ENGINE RB26DETT 2.8L STEP2 V-CAM】
COMPLETE ENGINE that having "V-CAM STEP Pro" compatible with a large single turbine.
Proven 2.8L STEP 2 kit is assembled by an experienced HKS engineer.
Combustion chamber processed by CNC machining to reduce knocking.
Employ a large capacity oil pump to ensure the stable lubrication of the engine on a whole RPM range.
Selected the most optimal main bearing and connecting rod bearing through many strict tests.
Grommet head gasket and strengthened stud bolt for improved sealing.
High angle camshafts for improved high end performance.
Reinforced valve spring and titanium retainer to suppress surging at high-rpm.
Strengthen valve stem seal for improved sealing performance even at high-rpm and high temperatures.
This product purposely employs V-CAM STEP Pro to the existing complete engine RB26DETT 2.8L STEP2 because of the consideration of the valve lift.
Employing V-CAM STEP Pro brings out more engine performance. STEP Pro came from the name of the billet CAM.
* HKS recommends using "HKS Racing Pro 10W50" engine oil.
2.8L, Step 2 kit, forged piston, billet H-beam connecting rod, and forged crankshaft.
High-strength and large capacity oil pump
Intake: V-CAM System STEP PRO
Exhaust: STEP2 272°
Slide Cam Pulley
Titanium made valve spring retainer
CNC machined combustion chamber that decreased combustion chamber volume smaller as much as possible and utilizes the squish area.
Specifications
| | HKS 2.8L(V-CAM) | Stock |
| --- | --- | --- |
| Bore | 87.0mm | 86.0mm |
| Stroke | 77.7mm | 73.7mm |
| Compression Ratio (t=1.2) | 8.6 | - |
| Maximum RPM | 8,800rpm | 7,600rpm |
| Displacement | 2,771cc | 2,568cc |
COMPLETE ENGINE RB26 2.8L STEP2 V-CAM
Camshaft
IN: HKS V-CAM STEP Pro 264° / LIFT 10mm
EX: HKS STEP 2 272° / LIFT 10mm
Cam-pulley
HKS slide cam-pulley
Code No. 22004-AN001 (IN)
Code No. 22004-AN002 (EX)
Timing Belt
HKS fine tune timing belt Sport
Code No. 24999-AN002
Spring Retainer
Titanium made HKS spring retainer
Valve Spring
HKS reinforced valve spring
Code No. 22001-AN001
Stem Seal
HKS reinforced stem seal
Code No. 22999-AN004
Valve
Sheet sliding
Port
Step removal around the seat area
Combustion Chamber
CNC machined (with retained Squish area)
Head Gasket
HKS Grommet type gasket (t=1.2)
Code No. 23009-AN008
Head Bolt
HKS reinforced bolts
Block (24U)
Processing Details
Cooling water hole
Hole side chamfering for head bolt
Boring
Oil Pump
HKS reinforced oil pump
Code No. 15003-AN001
Piston
HKS forged piston kit
Code No. 21003-AN003
Connecting Rod
HKS H-beam connecting rod
Code No. 2304-RN006
Crankshaft
HKS forged crankshaft
Code No. 23006-AN003
Main Bearing
ACL bearing company made
Connecting Rod Bearing
ACL bearing company made
Covers
Baking finish