PRODUCT
ENGINE
HKS COMPLETE ENGINES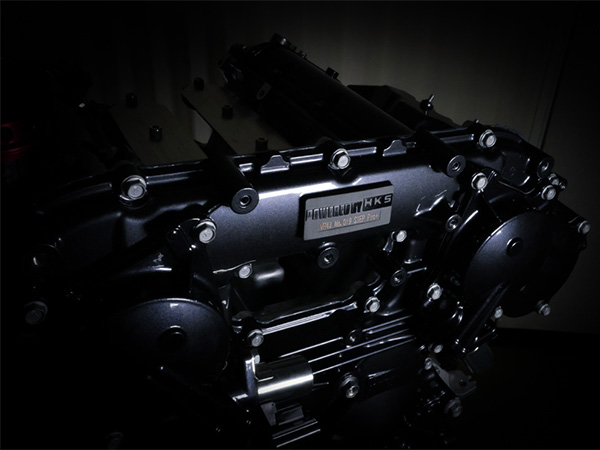 【COMPLETE ENGINE for VR38DETT 4.3L STEP Pro+】
Top-of-the-line STEP Pro+ added to COMPLETE ENGINE VR4.3L
For the COMPLETE ENGINE VR4.3 STEP Pro + that is capable for even higher torque, a special I-beam con rod was developed that has a higher buckling strength than the H-beam con rod. In addition, specially designed crankshaft to further increase torsional rigidity. The area of the dangerous cross-section is enlarged by larger pin diameter, and the asymmetrical design of the critical section between pins #5 and #6, where the stress is highest, is thickened only. This minimizes the increase in weight and optimizes the balance ratio by reviewing the counterweight to match the increased weight of the pin section.
Features
STEP PRO+
In addition to STEP PRO crank made of high-end racing grade nitriding steel, STEP PRO + crank is treated with iron plasma to increase surface strength and toughness required of high cycle performance crankshaft.
Enlarged crankpin to D57, and inside corner radius to 3.5 for improved torsional strength.
New billet I-beam con rod for SETP Pro + made from a single piece of flat forged steel has 26% higher buckling strength.
10mm extension in the front of crankshaft to prevent crank pulley fretting
Double layer coated piston is specially designed for Pro + effective for sliding under high loads and rotation.
Special 3D-Printed oil jet to fit the I-Beam connecting rod.
HKS Complete engine series
HKS original oversize main stud bolts
#2 and #3 main journal made of Chrome Molybdenum for improved durability
Line boring to ensure the roundness of main journal.
Main and connecting rod bearings were selected after numerous rigorous tests
High thermal conductivity beryllium valve seats and phosphor bronze valve guides
HKS metal head gaskets and extra-strong head studs for improved sealing
HKS high lift camshafts for improved performance in high rpm
Note: HKS recommends using HKS Racing Pro 10W50 engine oil.
Connecting Rods
New billet I-Beam connecting rods for STEP Pro + improved buckling strength by 26%.
H-beam con rod is lightweight, tensile and buckling strength are excellently balanced. However, looking only at buckling strength, the side walls where stress is high are thinner which could be a fracture origin at high torque. (red part)
Thick side I-beam connecting rod for STEP Pro+ was developed to improve buckling strength significantly. Stress will not concentrate on one area benefit from the new lightweight design. (red part)
Big end is also developed to distribute the surface pressure of connecting rod bearing.
STEP3 /
STEP PRO
STEP PRO+
Weidht
720g
752g
Torque
Capavility
150kgf.m
(approx.)
190kgf.m
(approx.)
STEP3/STEP Pro
H-Beam Connecting Rod

STEP3/STEP Pro
I-Beam Connecting Rod

STEP3/STEP Pro
I-Beam Connecting Rod

Special 3D-Printed oil jet to fit the I-Beam connecting rod
Pistons

STEP Pro+ double-layer coated lightweight billet piston made from highly heat resistant A2618 alloy.
(only for STPE pro +)

Port and Polish Heads

Combustion chamber and in/ex ports have been mirror finished by HKS's one of the most experienced engine builders.

Connecting Rod Bearing

Bearing for billet I-beam connecting rod
(D57, only for STEP Pro+)

Crankshaft

Crank pin diameter and inside corner radius are enlarged to increase torsional rigidity.
(only for STEP Pro+)

Main Journal

Extra-strong bearing caps for #2 and #3 made of Chrome Molybdenum, and line boring for improved accuracy (STEP Pro & STEP Pro+)

Crank Pulley

Original VR43 crank damper
(co-developed with ATI)

Exclusive Emblem

DLC coating emblem exclusively for Pro+

Original Crankshaft

Asymmetric crankshaft designed to increase strength and decrease inertial weight at the same time
Specifications
| | HKS 4.3L KIT | STOCK |
| --- | --- | --- |
| Bore | 95.5mm | 95.5mm |
| Stroke | 99.0mm | 88.4mm |
| Comp. ratio (t=0.8) | 8.6 | 9.0 |
| Allowable RPM | 7,400rpm | 7,000rpm |
| Displacement | 4,255cc | 3,799cc |
COMPLETE ENGINE VR38DETT 4.3L STEP Pro+
Engine Head Modifications
Seat: Beryllium / Guide: Phosphor Bronze
Step removal and polishing around the sheet
Combustion chamber polishing finish
Camshaft
HKS IN:270° / LIFT 11mm
HKS EX:278° / LIFT 11mm
Valve Spring
HKS Strengthened
Valve
Adjusted to seat
Head Gasket
HKS Metal Gasket (t=0.8)
Head Bolt
ARP Strengthened Stud Bolt
Block Modifications
#2 and #3 Chrome Molybdenum Cap
Oversize Main bearing thread
Enlarged ladder cap hole
Journal oil hole line boring
Honing
Main Bolt
HKS M12 Stud Bolt (625+)
Piston
HKS billet (Double-layered molybdenum coating)
Connecting Rod
STEP Pro+ billet I-Beam
Oil Jets
STEP Pro+ 3D-Printed
Crankshaft
STEP Pro+ HKS billet (nitride steel & ion heat treatment D57 crankpin enlarged)
Main Bearing
ACL
Connecting Rod Bearing
ACL (width adjusted)
Crank Pulley
Original VR43 Damper
Cover
Baking finish
Spark Plug
HKS M50HL