Insistence on Material Selection
"SUS304" - Shine & Stylish Designed Exhaust Systems
High quality stainless steel grade 304 is utilized as a material to produce exhaust tips, silencers, and pipes. SUS304 is highly durable and resistant to corrosion, and the shiny pipes made of SUS 304 can provide high quality appearance.
"SUH409" - High Performance & Cost Effective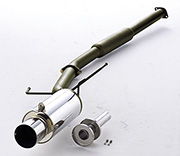 SUH409 components can be made lighter for weights comparing to other components made of SUS304. Also, SUH409 has low coefficient of thermal expansion that improves the product quality and cost effectiveness.
"Advantex(R) *1 glass fiber" - Long Lasting High Quality Sound & Sound Level
Advantex(R) glass fiber packing is utilized in most of the newer model applications to reduce the noise level. Advantex is a continuous strand of fiberglass packing *2, that is less likely to blow out or wear out over time when compared to conventional muffler packaging material. Features of Advantex ensure the product durability, long lasting high quality sound quality, and noise cancellation characteristic.

*1 Advantex(R) is a registered trademark of Owens Corning.
*2 750km long 35μ superfine continuous strand of fiberglass
Heat Resistance of Glass Wool
| Temperature | Conventional Product | Advantex |
| --- | --- | --- |
| 300℃(General Exhaust Gas Temperature) | No Change | No Change |
| 700℃ (Lowest Temperature of Heat Set) | Start losing Elasticity | No Change |
| 800℃ (Highest Temperature of Heat Set) | Elasticity lowered | Start losing Elasticity |
| 900℃ (Highest Temperature of Sintering) | Completely Melting | No Elasticity |

Advantex has 100℃ higher heat resistance.
*Heat Set: Material change in heat. (Glass wool loses its elasticity.)
*Sintering: Glass wool is melted and sintered.