Insistence on High-level Tecnology
Full Use of HKS Best Technology to Produce Every Single Component.
By Expert Technology

"Layout & Clearance"

By Specialized Knowledge

"Optimized Pipe Dia."

By Professional Skills

"Tig Welding"
---
For More Strength & Noise Cancellation -
"End Plate"
(* For LEGAMAX only)
End Plate has the tapered edge to enhance the durability. The tapered edge can reduce the exhaust resonance and cancel noise better. The appearance of the vehicle's rear can be improved with the End Plate.
As shown in the graph, utilizing the end plate with the taperd edge can reduce the noise level, especially high-tone uncomfortable noise.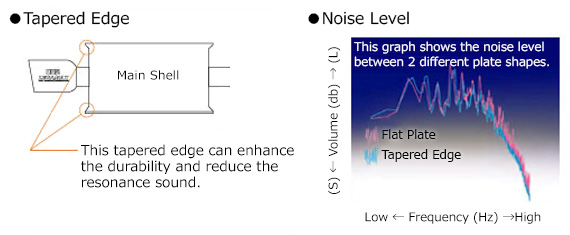 ---
Dependable Tool for Exhaust Sound Tuning -
"Silent Chamber"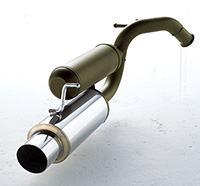 Silent Chamber was designed to reduce the exhaust noise from vehicles with large displacement and/or NA engines. HKS has utilized this Silent Chamber to some applications for Silent Hi-Power, Es Wagon, and Es Wagon 409 series. Silent Chamber is designed to adjust a resonant frequency, and it is separated from the exhaust shell; therefore, the exhaust function and sound can be controlled at the same time. Silent Chamber is not visible from the vehicle's rear after an exhaust system is installed to a vehicle so it has no effect on the appearance.
●Effect of Silent Chamber

The resonance inside Silent Chamber can reduce the noise effectively as shown in the diagram. There is no interference to the exhaust gas flow so the exhaust funtion can be maintained as well.