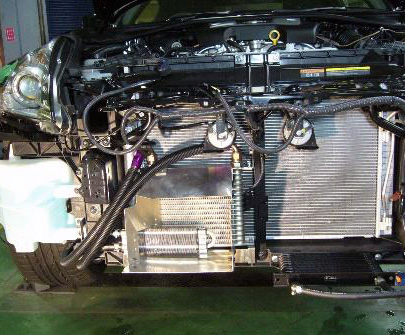 You must have this item if you are driving Z34 at a circuit, because when you are driving, the oil temperature will rise and the fail-safe system will be turned on.
■Features
When driving the Z34 and the engine oil temperature goes above 135℃ (130℃), the fail-safe will limit the throttle duration and the max RPM. But this kit will prevent the fail-safe system to activate.
15 rows core (W200 X H220 X T48) is in front of the radiator.
For installation of the kit you need parts modification of resin protector and alternator bracket.
Installation requires approximately 3 hours.
■Characteristic
At the Fuji Speedway test drive with the stock, we couldn't even go for one lap because of the fail-safe, but with the HKS Oil Cooler Kit installed we could go for 6 laps.
* We recommend the twin core kit for long run at the circuit.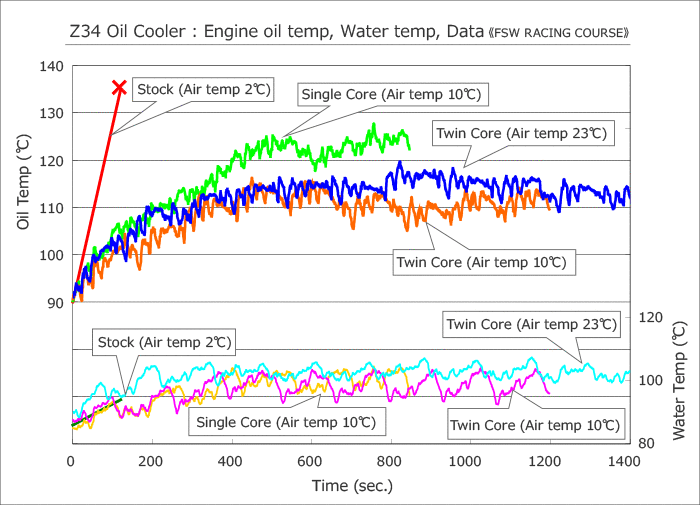 * The output data is test result of HK. The results may vary for different condition.
■Test vehicle SPECIFICATION
METAL CATALYZER / Center Pipe / LEGAMAX Premium
■Components
Products marked with an asterisk (※) are required to use this kit as twin core kit.
■Remarks
Need resin protector and alternator bracket modification.
Pop up engine hood is adopted so when you want to take off the bumper, take out the minus terminal of the battery and wait 3 minutes before start working.
Washer tank relocation is not required.
When the twin core kit is installed, you can have effective cooling performance with the bumper protection modification but we can't guarantee the normal actuation of pop up engine hood.