Awesome control and comfort ride on the street for a sporty drive. The new Max IV sporty suspension.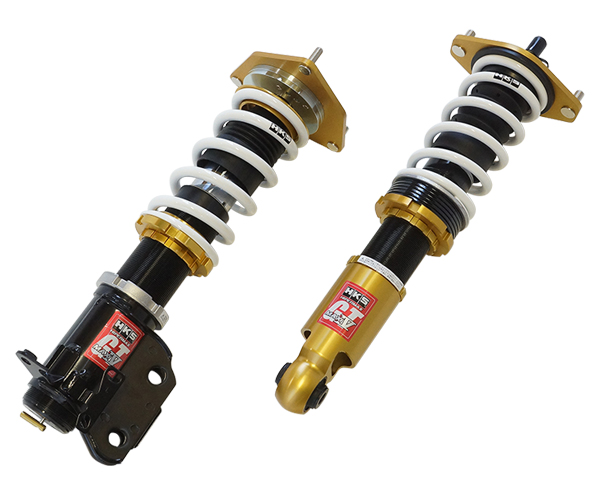 *1. Height from road surface to fender arch.
*2. Height at factory is the data tested at HKS with the setting of Full Kit. (HKS' recommended setting.)
*3. Adjustable range (However, the lowest value may not be road legal.
Even within the adjustable range, car body, arm etc. may contact. In such case, it will be hard to drive.
Damper oil leakage or any other problems caused by low ride height setting from the factory setting will void the warranty of the product.)
*4. Drivable range that there is no contact of car body or arms etc. (However, change of tire/wheel size may cause a problem.)
Caution). Actual data depends on each vehicle.
Kit information
Spring of Full Kit
Specification of damper
* The value of the damping force is at piston speed of 0.1m/sec.
Setting data
* Refer to the above explanation *3 of ride height information for drivable high and low limitations.
Test vehicle information
* Test data at HKS.
Parts List * It may be changed without prior notice.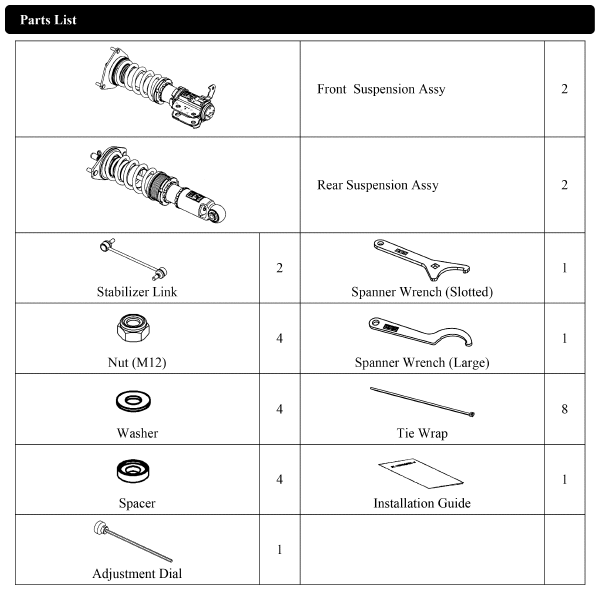 Point
HIPERMAX IV GT for 86 is redesigned with rubber upper mounts instead of pillow upper mount. This product delivers a great ride comfort on the street, stylish appearance, and outstanding driving performance. Settings were performed with 18 inch tires.
The ride comfort of a vehicle on a street was especially emphasized; it is ideal product for those who look for comfortability not only for a driver but also for passengers even on rough road surfaces. The unique soft ride feeling is delivered like other Hipermax IV series. It also becomes capable of circuit driving by adjusting the damping force.
Intensive tests based on analytical data of each vehicle model are usually conducted to develop Hipermax IV series. The spring rates, damping force, balance of the front and rear, and stroke are considered to provide the safe and fun product for users.
Redesigned internal parts, new exclusive parts, and stabilizer link make high quality suspension delivering better ride feeling, reliable handling, and stylish low-stance.
New needle was designed to improve the damping characteristics in a minute low speed and mid to high speed after an exhaustive study of the characteristics. Drastic improvement of the damping characteristics in these ranges enables stable damping and soft and excellent ground-contact feeling. Also, this improvement eliminates an unnecessary damping in a mid to high speed range; unwanted upthrust generated by running over a large gap and/or bridge girder can be reduced.
Damping force adjustment by a dial was also reviewed, and oil flow passage was improved so the damping force would not be too stiff even the dial is set to less than 10.
※5. Bump rubber must be replaced with a 10mm bump rubber.
●Required Modification
Cutting a part of a rear vehicle liner is required to install the damping force adjustment dial.