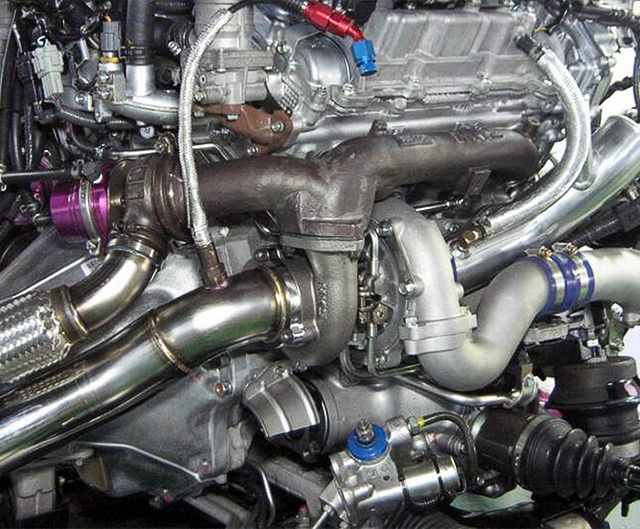 HKS is challenging for the high performance concept of HKS R35 GT series. And we have set the goal of 1000 horse power with GT1000! For the extream power and performance, the GT800 design of "symmetrical layout" has succeeded to the new GT1000.
【Features】
GT1000 has succeeded ideal design of "symmetrical layout" of GT800. And HKS has tuned-up and newly designed in all little detail for precision, strength and heat-persistence. The new GT1000 provides effective boost control and prevents from exhaust loss.
For effective intake and exhaust stream, HKS has newly redesigned original suction pipe and chamber pipe for the new GT1000.
Our proven technology "heat-resistence cast" was employed in exhaust manifold which provides high resistance in the heat and vibration.
GT II is employed for wastegate of GT1000 which is very small and light and still has secure boost control.
【Performance】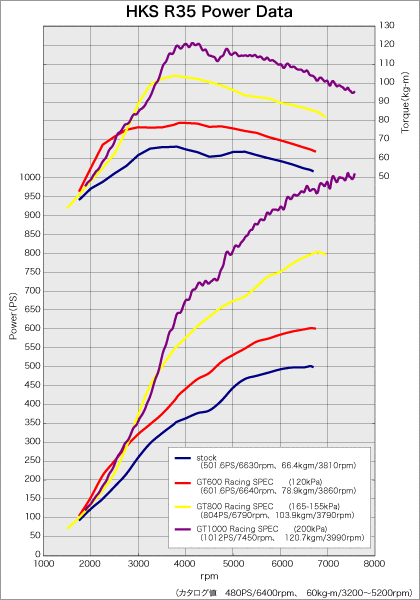 * The output data is test result of HKS chassis dynamometer. The results may vary for other device.
Testing vehicle specification (outline)
GT1000 FULL TURBINE KIT
GT1000SPEC INTERCOOLER KIT
4.1L Capacity Up KIT
HIGH-FLOW SURGE TANK FULL KIT
Muffler for race (prototype)
【Components】
* We suggest to use HKS Racing Suction Reloaded
【Cautions after installation】
Removing and installation of the engine is required for installation.
Fuel pump, injector, F-CON, EVC, Engine parts are not included.
Factory setting for wastegate boost pressure is about 90 to 100kPa.
Need processing of stock water pipe.
Need processing of stock turbocharger heat insulator.

This product is for the race. HKS does not guarantee the damage for using it or installation.

This product take the catalyzer away which doesn't meet the safety standard, therefore can't drive on the public road.

Not subject to dealer warranty

GT800-1000 Upgrade Kit must be upgraded from GT800 full turbine kit.