S660 GT100R Package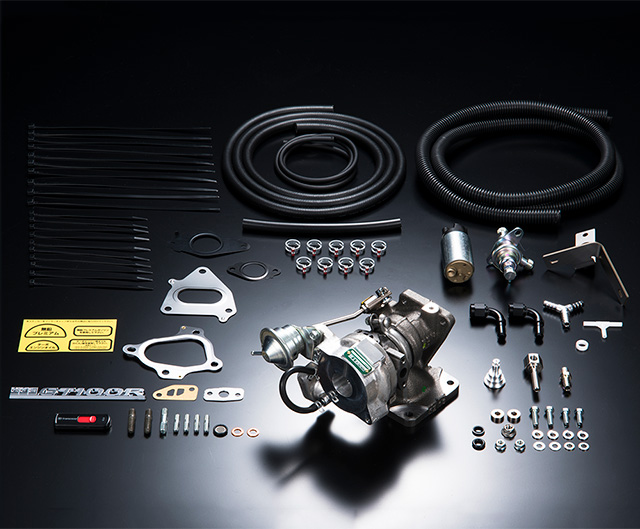 Honda S660 was released with the long-established S series. S660's high RPM engine with a 7800rpm rev limit is deserved to be S series. 「S660 GT100R Package」 brings out the real performance of the S07A engine !!
Over 100PS with GTIII Turbo!!


■Features
◆Renowned High Efficiency MHI Turbo
Recent requirements towards fuel efficiency and emissions control has accelerated the development of turbo technology and this has been adapted for tuning. The most advanced and high efficiency MHI turbo was made with the latest turbo technology. Easy bolt-on installation. (Stock water cooling/oil piping, suction pipe, and turbine outlet are reused.)
◆Upgraded Fuel Parts to withstand 100PS
Stock injectors and fuel pump only withstand up to 90ps. Replacing S660's stock fuel press. regulator inside the tank to provide constant fuel press. with a adjustable type allows the fuel pressure to increase so it can withstand 100ps. Also, replacing the fuel pump with the large capacity pump (1.8 times of the stock pump) enables the fuel supply to be more stable for a better safety condition.
◆Suppress Rise in Exhaust Pressure & Intake Air Temperature for Safe Power Increase!!
The stock turbo can increase the power up to 80hp by increasing boost pressure; however, the boost pressure increase without considering the turbine efficiency makes the exhaust pressure and intake air temperature significantly high. HKS GT III turbo is designed with the optimal blade diameter to utilize the best turbo efficiency to achieve 100hp and reduce the exhaust pressure and intake air temperature . 「GT100R Package」 includes the initialization tool for HKS Flash Editor; therefore, for those who already have Flash Editor, 100hp is achievable without a complicated setting by utilizing the data preset to the initialization tool.
■Kit Parts
■Performance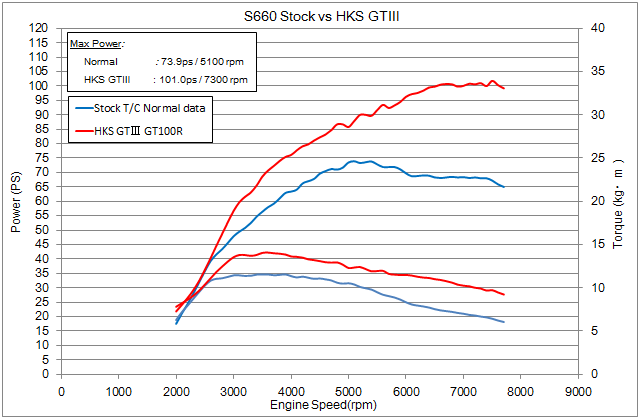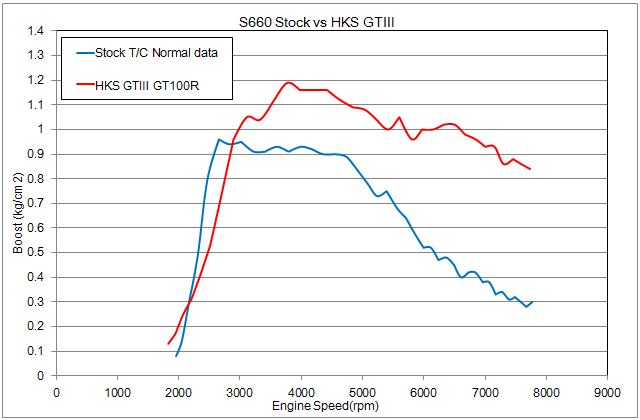 Test Vehicle
Gasoline: High Octane Installed Parts: HKS S660 GT100R Package, Racing Suction R, Hi-Power SPEC-L, M45HL Plug, and Flash Editor
■Performance with HKS Products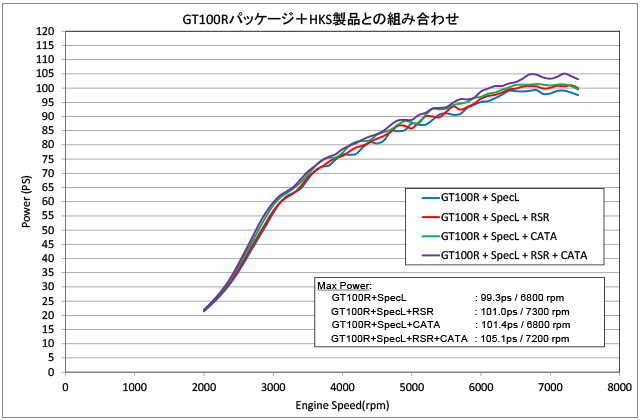 【Remarks】
These results were obtained from the in-house tests. Measurement Instrument: Dyno Jet
GT100R : S660 GT100R Package, SpecL: Hi-Power SPEC-L, RSR: Racing Suction R, CATA: Metal Catalyzer
With RSR, the performance under the high engine RPM is improved. With Metal Catalyzer, a rise in the boost pressure is improved.
ECU data used for measurement are data from the provided initialization tool. Data are available for a use with Spec L, RSR, and Metal Catalyzer.
●FLASH EDITOR JW5 S07A(TURBO)
⇒ ECU Compatible with HKS Flash Editor