SPORTS TURBINE KIT for LANCER EVOLUTION VII-VIII[CT9A]
"GT III Turbine" is a new generation of turbo combining MHI brand CHRA with HKS original housings designed from the long term know-how HKS has accumulated over many years.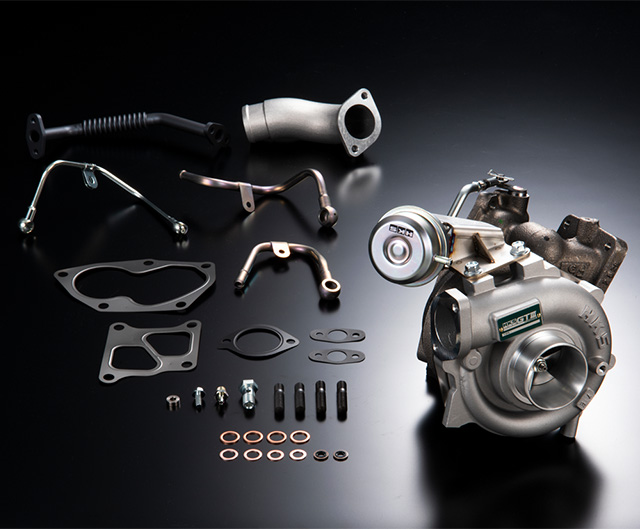 ■Features
Renowned high efficiency MHI CHRA for the center cartridge
Recent requirements towards fuel efficiency and emissions control has accelerated the development of turbo technology and this has been adapted for tuning. A complicated design turbine blades prevents surging even at low air flow ranges.
HKS Original Vehicle Specific Housing
HKS designed housings which utilize the technology, experience and know how built up over many years of turbo charger innovation and latest flow analysis. The combination of the ultimate turbine blades and optimal design housing enables the compressor work more efficiency in a wide range and setting arrangement as desired.
Restrictor for 4G63 Engine
The 4G63 stock engine is able to achieve over 257kW(350ps); therefore, this kit is not designed to be installed to a stock fuel system vehicle specification. For those who wish set the boost pressure to 95kPa or less, a restrictor designed exclusively for this kit is available as an optional part.
■Performance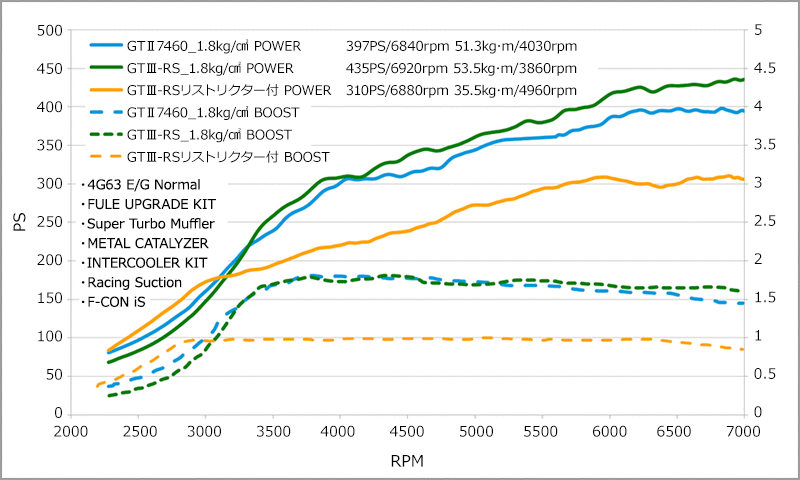 ■Test Vehicle
Stock Engine
Large Capacity I/J, Large Capacity Fuel Pump
Super Turbo Muffler, Metal Catalyzer
Intercooler Kit
F-CON iS
■Kit Parts
GTIII-RS Turbocharger Assy
Gasket, Bolt, etc.
■Note
The shape of the part the turbo oil return pipe is connected to is different depending on the engine manufacture lot. Measure the clearance between the upper side of the oil pan and the center of the left side of the turbo oil return pipe installation bolt hole, and select a proper kit referring to the photos on the bottom.
【Clearance from the upper side of the oil pan】

Modification of factory parts is required.
Upgrading the fuel and engine parts may be required depending on the vehicle specifications.
The graph shows the results of in-house test. The actual results may vary depending on test condition, measurement instrument, vehicle's individual characteristic, and/or specification.
●RESTRICTOR for GTIII-RS(4G63)
●CHRA for OVERHAUL