DSLD(仮称)for GR86(3BA-ZN8)
/ BRZ(3BA-ZD8)
PROTO TYPE
スピードリミッターカット装置
Speed limiter removal device
最近の車両は、CAN通信ネットワークにより車両制御が行われています。
車速信号はCAN通信に含まれる為、従来の制御に用いられる車速信号線というハーネスが存在しません。
HKSでは独自にCAN通信を解析し、CAN通信の操作を可能にしました。
Modern vehicles are controlled by a CAN communication network.
Since the vehicle speed signal is included in the CAN communication, there is no harness called speed signal wiring used for the previous system.
HKS has analyzed the CAN communication and made it possible to use this communication.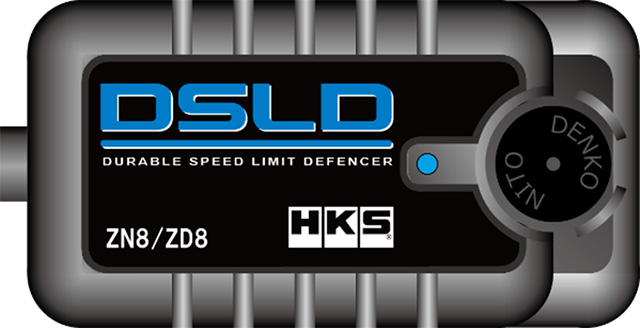 【特長/Features】
CAN通信に含まれる信号の中から車速信号のみを操作する事によって、スピードリミッターの解除を可能にします。


The speed limiter can be canceled by operating only the vehicle speed signal from the signals included in CAN communication.

スピードリミッター解除に伴う不具合はありません。


There are no problems associated with releasing the speed limiter.

CAN通信上の車速信号をアナログ出力に変換する出力線付きですので、車速パルス信号を必要とするデバイスを使用できます。


Since it has an output line that converts the vehicle speed signal on CAN communication to analog output, it can be used with devices that require a vehicle speed pulse signal.

スピードリミッターカット後(180km/h以上)も、インパネのスピードメーターはクリップすることなく正常に表示します。


Even after the speed limiter cut (180km / h or more), the speed meter of the instrument panel displays normally without clipping.