PRODUCT
ELECTRONICS
BOOST CONTROLLER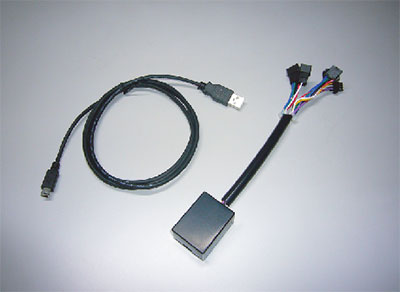 【EVC EASYWRITER】
* EVC6-IR 2.4 is not required.
Easy Writer set for EVC6・EVC6-IR
EasyWriter is the boost pressure setting tool which improves the operability of the EVC. New EVC6 is equipped with the TFT LCD; map setting can be easily done on the screen on the unit because of the high level of visibility. Using this EasyWriter enable the EVC to connect with the PC, and setting can be much easier.
Features
Settings can be edited, checked, and confirmed on the PC monitor.
EVC6-IR 2.4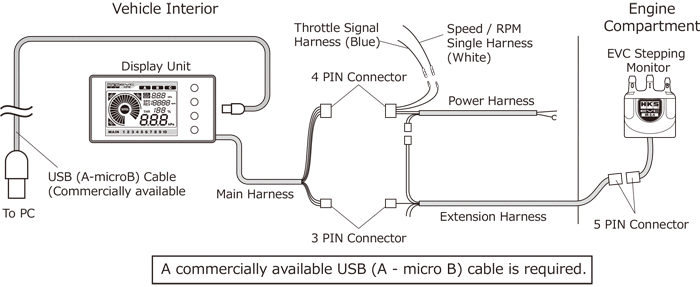 * Easy Writer is not required for EVC6-IR 2.4. Download the software from our website.
EVC6, EVC6-IR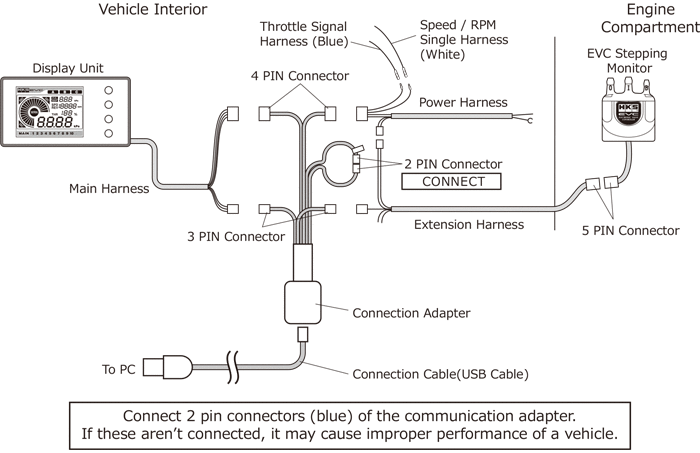 Editable Items by EasyWriter
Bar graph (Boost, Speed, PRM, or Throttle)
Bar graph peak function setting
Max Value of bar graph
Boost set valve
Map function setting
Map axis setting
Boost correction value
Offset value
Offset map setting value
After-image function setting
Backlight brightness
Sampling Time
Scramble boost and scramble time setting
Drop boost function setting
Correction Map (PRM+Throttle)

Log Link



* EVC start-up screen can be changed by using another software.
Save setting to the PC

Saving and resetting data to the original even after editing.

Monitor input signals using the PC

Monitoring the boost pressure, engine RPM (or speed), throttle angle, and correction values.

Log EVC data on the PC

Logging the boost pressure and/or correction conditions to check them on graphs.
[ Product Contents ]
Communication Adapter
Communication Cable
Instruction Manual
EasyWriter Operating Condition
Pentium M 1GHz or faster (Multi core CPU recommende)
OS: Windows XP Servise Pack3 (SP3), Vista, Windows 7
.NET Framework 3.5 or higher
RAM: 256MB or more (512MB recommended)
Hard disk: 500MB or more
XGA(1,024×768) or higher screen size (WXGA (1,280x800) recommended)
Mouse or any pointing device
USB connector
Internet Connection