Functions validated by a long-seller sold over 300,000 ...
This product is a device applicable to a vehicle starts the engine using the ignition key.
10th generation Turbo Timer evolutionally advanced with the turbo engines.

Begin as a must for the turbo engine.
The original turbo timer was developed to prevent turbocharger bearing seizure by after-idling.
For BIG POWER & SAVE ENGINE・・・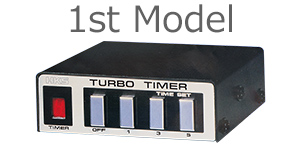 1982 ~ 1985
All turbocharger was exposed to the high temperature exhaust gas; therefore, if the engine was shut off without after-idling, the turbine may be damaged. To secure sufficient turbine life, it was necessary to keep the engine idling before the engine was off. HKS Turbo Timer was developed to prevent the turbocharger damage by letting the engine idle even after the engine was off.
Turbocharged engine was standardized.
1985 ~ 1987
The turbocharged engine delivered high engine output with small engine displacement. As various turbocharged engine models were released from the automobile manufacturers, HKS redesigned Turbo Timer to provide better operation, visibility, and flexibility in mounting.
Evolution from a Pioneer Model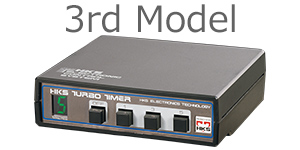 1987 ~ 1989
Highly-reputed Turbo Timer was redesigned to a lightweight and compact sized unit for better usability.
The push-type switch enabled an operator to use easier. Visibility was improved by a display window. Applicable with 12V and 24V.
High Class Model "Quest"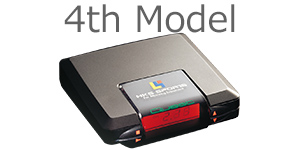 Limited Model
Liquid crystal display was utilized to Turbo Timer for the first time.
The display color was changed to green during stand-by and red-flickering during operation. A countdown takes place every second.
Alarm beeps when counting-down is started to notify a user.
Streamline-shaped Design and Sense of Unity with Vehicle Interior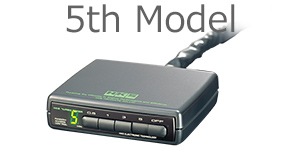 1989 ~ 1994
The main unit case was made by ABS resin molding. Not only the timer function but the design was sophisticated to upgrade the vehicle interior.
2-mode, 2-way, 2-crystal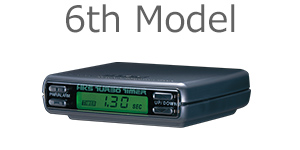 1994 ~ 1996
Timer mode and ADD mode enabled a user to select from normal display and active display.
ADD mode accumulated the engine operation time to refer for the engine maintenance not only by the driving distance. The crystal unit for accurate operation and time measurement was built in the main unit.
2-mode, 2-way, and Timer Memory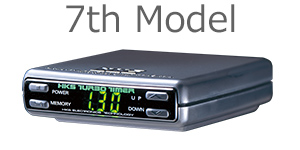 1996 ~ 2000
14 idling time pattern setting, unnecessary idling prevention, and long-term setting were added. New memory function enabled the engine idle depending on the driving conditions, and 3-memory and 4-pattern settings were available.
Type-1 and Type 2, Liner Timer Function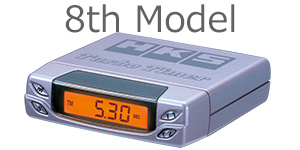 2000 ~ 2008
Type-1 for multiple function and Type-0 for basic function. All-around timer for various driving situations and vehicle specifications.
Compact Function and Compact Size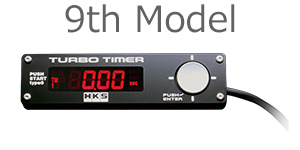 2008 ~ 2018
Separate type of Timer enhanced flexibility of an installation position. Timer design was decided to give a feeling of unity with other HKS electric products. Also, the industry's first Turbo Timer for the vehicles equipped with push-start ignition was released.
After several redesigning, 9 types of Turbo Timer were released.
As a result of finding what is truly required as a turbo timer, 10th model is designed to be specialized for timer function.
10th Model
Simple and Highly Operable Model from 35-year History.

Function specialized in after-idling.
Simple, and easy to use

Simple operation just by pressing a switch.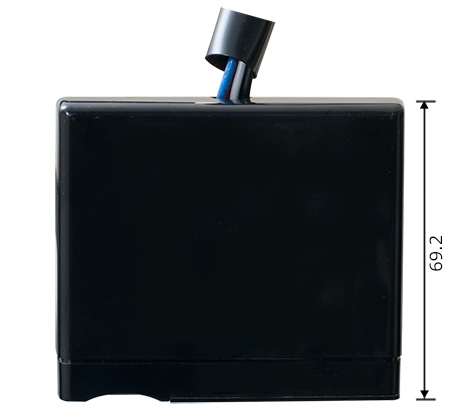 DC12V Negative Ground (Operation Voltage: DC10V~16V)
Large Capacity Relay Equipped
Ignition: 25A / Accessary: 25A
Stand-by Current: 10mA or lower
Operating Temperature: -20~60℃ (-4 to 140°F)
Setting Time Range: :1, 3, 5, 10, and 30 min.
Example of One Minute Time Range: Frequent after-idling for daily use.

Idling takes place after street driving, commuting, etc.
It is convenient when a driver has to leave the car right after the engine is shut off.

Example of 3 Minutes Time Range: Effective after-idling after driving a highway.

After idling can cool down the turbine and/or engine oil heated up by continuous high speed driving, and the engine shut off without imposing a load to the turbine and/or engine; therefore, the durability of the engine and engine oil is improved.

Example of 5 Minutes Time Range: Effective after-idling after circuit driving

When high load is applied to an engine, and an engine runs at a high speed, the engine and turbine may become in a condition close to a limit. With Turbo Timer, after-idling takes place even if the ignition is turned off by mistake so the engine and turbine may not be damaged.

Example of 10 Minutes Time Range: To keep the interior temperature when leaving a vehicle for a short time

With Turbo Timer, a driver can lock the vehicle door even while running an engine; it allows the vehicle interior temperature maintain when leaving the vehicle for ten minutes or so while reducing a load to a battery.

Example of 30 Minutes Time Range: To maintain the vehicle interior temperature in summer or winter

Maximum timer duration is 30 minutes. A long after-idling enables the vehicle interior temperature to be maintained for a long time.
(A long after-idling may not be allowed depending on the area, facility, local regulation, etc.)

■Functions
Single button control and red LED numerical display simplify operation and improve visibility.
5 time ranges selectable between 1, 3, 5, 10, and 30min. Maximum timer duration is 30 minutes.
Accurate time duration can be selected by manual setting.
Handbrake detective safety circuit
High capacity relay
Timer operation stops under unstable conditions caused by low voltage of a battery, etc.
■Application: Turbo vehicles that start the engine using the ignition key.
Not applicable to a vehicle equipped with the push-button ignition.
Existing Turbo Timer Harness is compatible.
※This product is not compatible some vehicles. Refer to the application list before purchasing this product.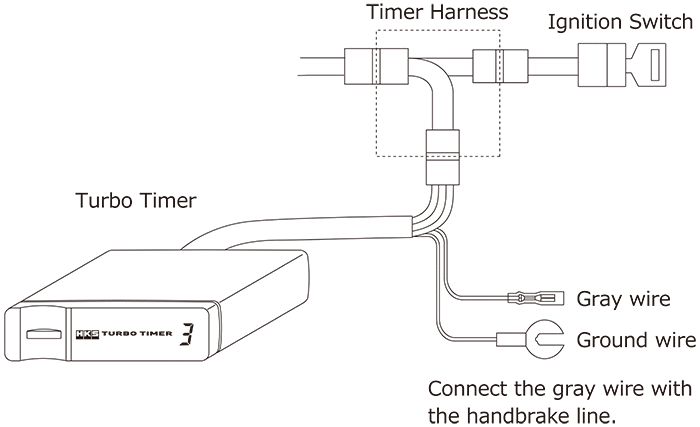 ■Features
Simple after-idling function and easy operation
Optimal touch button size for simple operation
Wavy panel design around the button for better operability. Capable of operating the button even in the dark.
Accurate setting is possible even by quick operation.
One-digit display for easy recognition of the set time
Time duration changed simply by pushing the button. Intuitive operations is possible.
Selecting "OFF mode" turns off the display and buzzer.
●Extension of Timer Duration
Maximum timer duration is 30 minutes.
Not only protecting the turbocharger, but also maintaining the temperature in a vehicle in summer and winter is possible.