SUPER EXHAUST SYSTEM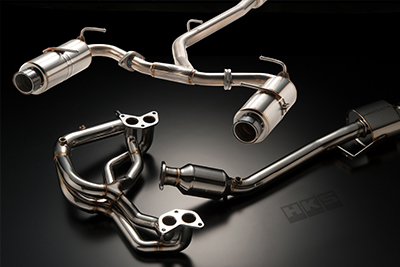 【SUPER EXHAUST SYSTEM】
Full exhaust system from exhaust manifold to muffler
Exhaust manifold, catalyzer, and muffler system are bundled as a set.
This set complies with Japanese exhaust regulation and acceleration noise regulation. The catalyzer meets Japanese emission regulation.
FEATURES
To enable high efficiency exhaust tuning, each part was optimized individually. For some vehicles, installing some parts on their own may not comply with Japanese safety standard.
As a set of optimized parts, it complies with Japanese acceleration noise regulation so it enables this product to meet Japanese safety standard.
3 different exhaust parts function as one exhaust system. Optimal exhaust tuning is achieved.
Select an exhaust system to meet individual preference and/or purpose of tuning or usage.
NOTE
* Only for MT(Not compatible with AT)
* Only a set before shipment is complied with the safety standard.