PRODUCT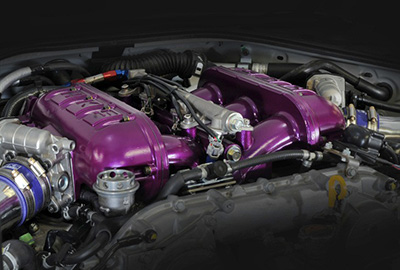 【HIGH-FLOW SURGE TANK KIT】
Separated tank type High-flow Surge Tank Kit was developed for R35 GT-R that enhances the appearance in the engine room.
By the flow test of each cylinder, HKS has designed it to eliminate the variability between cylinders, which produces more stable power output.
HKS Surge Tank improves its appearance, too.
HKS Surge Tank Pro Kit includes Delivery Pipe for additional injector installation, which is necessary for high-power tuning
Features
HKS original material and design

Separate type cast tanks.
Designed for GT1000 spec: Enlarged port diameter, optimized ports and cylinder distribution design.
Applicable for high horsepower. Even with the different shape from the stock design, the performance is not affected.
The tank dimension is optimized for quick and smooth response. HKS surge tank is not just to maximize the power only with the large capacity design but the design is for smooth air flow for quick response.
The ports of the tank side have funnel shape for high flow efficiency.

Easy installation

The layout of stock parts such as air temperature sensor, nipples, blow-by pipe and tuning pipe to connect between right and left banks are the same that enables easy installation.
No modification of pipe or complicated work is required.

Twin injector for better performance

Twin Injector Pro Kit included in the Full Kit set provides extra fuel supply that is required for high horsepower.
Desired size of injector for secondary side is selectable separately.
The attachment type design enables installation of stock injectors (standard attachment) or others.
* The injector holes of the Surge Tank for Twin Injector Pro Kit are closed with bolts. It can be used for single injector.