OTHERS

【GASOLINE AND HIGH OCTANE BOOSTER】
The quality of the fuel has a great influence on the engine characteristics and for the ignition timing setting. HKS developed original fuel products utilizing the accumulated and expertise of technology for drag race activities.
DRAG GAS and DHOB have the satisfiable performance. They are a must for vehicles tuned for the drag race, drift, and time attack.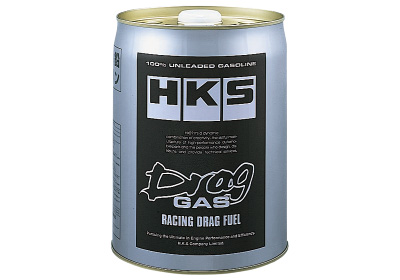 【DRAG GAS】
Race gasoline developed utilizing expertise and technology for drag race activities.
High octane (110 Octane) & high energy fuel to reach full engine potential.
Unleaded high octane gasoline. Vehicles with catalytic converters can run on this gasoline.
Initial boiling point is 37.5℃. Excellent starting performance.
No bad exhaust fume
Wide combustible range and setting range. Best torque can be reached at A/F12 to 12.5:1. Comparing to other commercial high octane gasoline, A/F will be about 1.5 leaner at the same volume of fuel.
Superior anti-knocking characteristic. Best to use for vehicles with high compression, high boost level, and advanced ignition timing. If an engine setting is based on usual premium gasoline, run on Drag Gas, knocking will not occur as there is more safety margin.
Supplied in a portable 20 liters can.
Cautions for Setting:
In order to increase horsepower with usual premium gasoline, limitation of horsepower is decided by the point of knocking. HKS Drag GAS has anti-knocking characteristic so the knocking does not occur. Thus, other factors should be considered such as heat range of spark plug due to pre-ignition.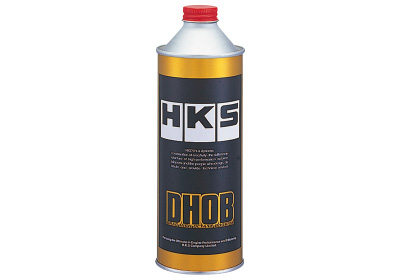 【DRAG HIGH OCTANE BOOSTER】
Gasoline additives developed by making full use of know-how gained by DRAG GAS development.
When a can of this product is mixed with 50 litters gasoline, about 2 octane increases for premium gasoline and about 4.5 octane increases for regular gasoline. For a track, it will add safety margin against knocking. In addition, it has cleaning effect of fuel injector