ENGINE OIL

【SUPER RACING OIL】
HKS bestseller engine oil series "SUPER OIL" are refined with an additive made by the latest technology that fights against LSPI(Low Speed Pre-Ignition).
Effective against LSPI(Low Speed Pre-Ignition)


HKS bestseller engine oil series "SUPER OIL" are redesigned by the latest technology; an additive was prescribed and added to the oil to protect the engine against the effects of LSPI (Low Speed Pre-Ignition) which tends to occur to a downsized turbocharged engine.
Usually, LSPI occurs when low viscosity engine oil is used to a downsized turbocharged engine; however, even high viscosity engine oil is used, if the engine is a high compression and high boost tuned direct injection turbocharged engine, and it is run under severe combustion condition, LSPI may occur. New "HKS SUPER RACING" series are the unprecedented high viscosity engine oil that can protect the engine from LSPI.

Base Oil is 100% Synthetic Oil


The base oil to maintain the oil basic performance is 100% Synthetic Oil. The best viscosity and ingredient is selected for each engine specification.



【SUPER TURBO RACING 5W40】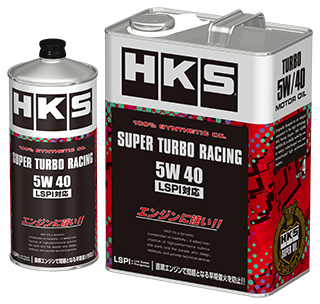 Widely Applicable with Turbo Engine/Downsized Turbo Engine
Stock Grade : *W40
Volume : 200L / 4L / 1L
Small Displacement Direct Injection Turbocharged Engine, 2L Stock Turbo
: K14C 8NR-FTS L15-B L15-C SR20DET 4G63 4B11, etc.
The engine is protected from the thermal load of sports driving while achieving light acceleration.


【SUPER TURBO RACING 15W50】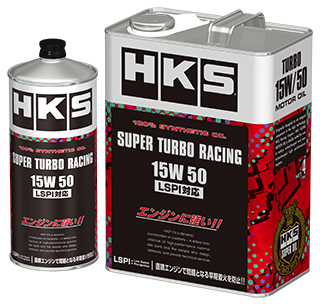 Ideal for Tuned Engine, Large Displacement, and Old Vehicle Models
Stock Grade : *W50
Volume : 200L / 20L / 4L / 1L
Target: High Engine Output Turbo / Boost Increased to Turbine Upgraded Vehicle
RB2#DET(T) #JZ-GTE VR##DETT VQ##DET SR20DET 4G63 4B11 EJ2#, etc.
Strong oil film protects the engine that are exposed to high loads.


【SUPER BOXER RACING 10W40】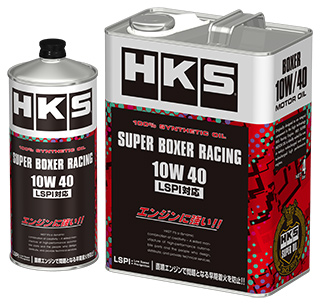 Ideal for Horizontally Opposed Engine like FA or EJ.
Stock Grade : *W40
Volume : 4L / 1L
Target: Horizontally Opposed Engine with Bolt-on Turbo and/or Boost Increased Vehicle
Engine: FA20(S/C or BOT) EJ2# FB2#, etc.
Sufficient oil film strength and appropriate viscosity reduces the noise occurs at a low temperature.


【SUPER ROTARY RACING 10W40】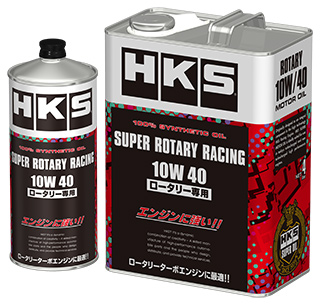 Designed for High Rotation Rotary Engine
Stock Grade : *W40
Volume :200L / 20L / 4L / 1L
Target: Stock to Turbine Upgraded Vehicle
Engine: 13B
Low ash property reduces the deposit built by the combustion product that typically generated by the rotary engine.
*This oil does not contain the additive effective against LSPI.


【SUPER NA RACING 0W40】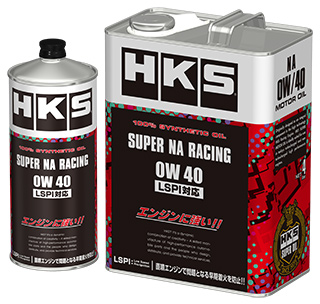 Ideal for High Response NA Engine & Vehicle with GT Supercharger
Stock Grade : *W40
Volume : 20L / 4L / 1L
Target: Stock to NA Tuned, and Vehicle with Bolt-on S/C
FA20(NA) K20 F2# P5-VPR PE-VPR VQ3#DE, etc.
Ideal for those who look for sharp acceleration, light response, and brisk high engine rotation.
*Proper oil temperature management enables this oil to be used with a turbocharged engine as a low friction oil.
SUPER RACING OIL Q&A
For NA engine, is there any advantage of using the oil effective against LSPI?

LSPI usually does not occur on the NA engine; however, since the new standard of oil clears old standards, there's no need for concern of using new oils. Even if the oils is designed to be effective against LSPI, other performance is not sacrificed, and the overall spec is improved by the latest formulation.
Super NA Racing is also available for the downsized turbocharged engines which engine oils is designated to be 0W-20 or 0W-30.
Why is the additive effective against LSPI not contained to Super Rotary Racing?

The rotary engine usually requires low ash property; therefore, the additive components level is usually low. As the compression ratio and boost pressure of the rotary engine are not so high, the proven conventional prescription was selected.
What is the advantage of the 100% synthetic base oil?

100% synthetic base oil can improve the fundamental strength of the oil. A strong oil film can be maintained without an additives that deteriorate by exposure to high temperature and high load conditions.
The additives work like an energy drink; the performance is temporarily improved, but the performance declines with the lapse of time. Therefore, the base oil's fundamental strength is important to maintain the performance.
Why 10W-40 was selected for Super Boxer Racing?

Due to the short stroke, big bore, and aluminum block, the piston side knocking sound sometimes occurs when the engine is cold. Since the noise tends to increase if the viscosity is too soft, moderate viscosity was selected.
For RB, the viscosity of the former engine oil was 15W-55. Why is the viscosity of the new one softer?

The viscosity description was changed according to the standard for viscosity description.
There is a certain range in the viscosity index classified as 15W-50, and SUPER TURBO RACING 15W50 is designed to be thicker among the range.
Is there any disadvantage of new viscosity of new oils?

HKS oils are a multi-grade oils that is soft at a low temperature, and thick at high temperature.
Fuel consumption, startability, and oil film strength are implemented together at a high level.
What is "LSPI"?
LSPI stands for Low Speed Pre-Ignition
For the tuned engine that requires fuel cooling and direct injection engine, gasoline adheres to the cylinder, and it dilutes the oil on the wall surface that makes smooth flow.
The temperature of oil that is blown up by a high speed piston ring and/or air flow inside a cylinder increase by air mixture adiabatic compression caused by raising piston. When this oil temperature exceeds the ignition temperature, it causes pre-ignition. This is one of causes of LSPI.
For a highly tuned engine, LSPI may occurs at intercept due to its ultra-high boost. LSPI may cause knocking that cannot be stopped even ignition timing is delayed.
What would happen when pre-ignition occurs?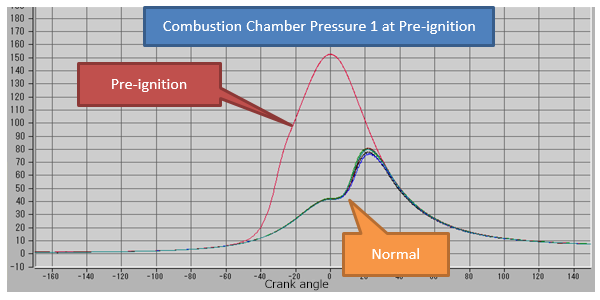 Pre-ignition increases the combustion chamber pressure excessively.
Excessive load is applied to the pistons and con'rods.
This graph shows the pressure doubled of the normal pressure.
It may cause damage to the pistons and con'rods.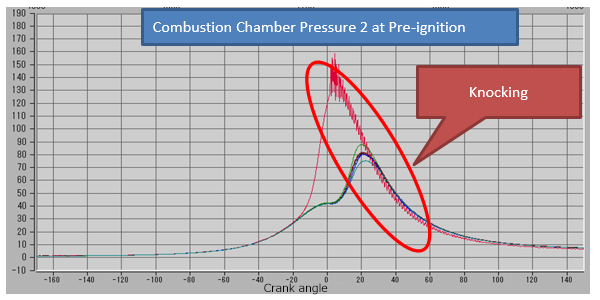 This graph shows that pre-ignition is causing knocking.
Knocking causes damage to the pistons and plugs.
Usually, pre-ignition causes strong knocking.
Oil Effective against LSPI
Making an oil effective against LSPI requires to devise blending of additives to prevent pre-ignition.
Usually, Ca (calcium) is contained in an additive for oil cleaning, and when oil is degraded,
Ca acts as a fire starter causing pre-ignition.
HKS new oils contains newly developed a magnesium-containing additive instead of calcium as a detergent dispersant.