PRODUCT
SUSPENSION
HIPERMAX SERIES

HKS HIPERMAX G Won the Prize of Sporting Product Section 2017 from Daily Automotive News
(※ Daily Automotive News is the world's largest automobile industry paper
in Japanese Nikkan Jidosha Shimbun Inc. is publishing.)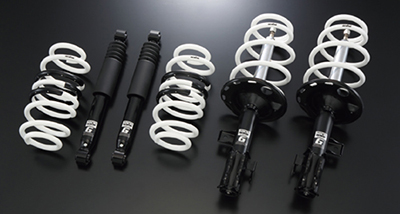 Hipermax G is the very first stock shape suspension upgrade kit from HKS. For those who replace the shock absorber for the first time, HKS designed Hipermax G focusing on "handling performance", "stability", "driving performance", and "ride comfort. HKS designs and manufactures this product in Japan. Also, durability test and long term driving test were conducted to guarantee this product performance. HKS has been offering this product to automobile dealers to improve the degree of recognition from drivers looking for better ride comfort for their families.

(From an article of Daily Automotive News on July 4, 2017)
HKS appreciates for this award. We believe that our policy toward "manufacturing" utilizing our know-how and insistence as tuning parts manufacturer received the recognition. We will keep working on not only existing business but also new developments in various fields.
[ Automobile Product Grand Prize from Daily Automotive News ]
Daily Automotive News began awarding this prize from 1987 to propose diverse and fulfilling car life to automobile users and contribute to promotion of automobile supplies and development of the industry; it is 30th year.
For this year, the products for which the prizes awarded were automobile products had attracted a lot of attention from April, 2016 to March, 2017. Besides the grand prix and runner-up, there are 16 sections such as tire, wheel, etc. to be awarded. Award-winning products were selected by a committee regardless of the quantities sold, the technology development, planning, idea, uniqueness, and pioneer spirit were considered as well as the results of interview and questionnaire to automobile products retail stores.