PRODUCT
TURBO
TURBO SUPPORT PARTS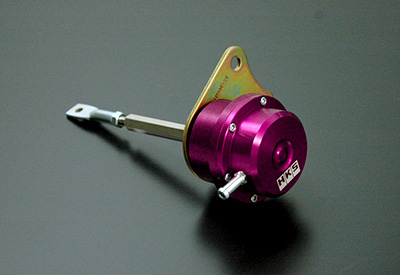 【GT ACTUATOR UPGRADE KIT】
GT Actuator Upgrade Kit provides excellent cost performance. Simply by installing to the stock turbo, the engine power increases.
As a first step to the boost increase, this kit can easily increase the boost even before the EVC installation for your car.
Main Features
(1) You can have boost up even before the EVC installation.
HKS electric boost controller "EVC" control the engine boost with the function of correction map. But this enhanced actuator can be installed even before the EVC setup and enjoy the boost up. Of course, you can use it with EVC, too.
(2) Less effect on control of stock and has stable boost up.
10kPa (0.1kg/cm2) boost up capacity design, compare to the stock. This level of boost up can be controlled by stock ECU.
(3) The boost up feel of half throttle or high rotation speed range.
You cannot have boost up or stability at high speed rotation range with the normal actuator but with the HKS' know-how produced original actuator design can have them.
(4) Adopted turnbuckle specification rod end
Can adjust the supercharging pressure without taking off the rod end from turbo crankarms because of the turnbuckle specification rod end.
(5) Cool looks in engine room
For aluminum machined actuator case of purple alumite looks great. The awesome looking product, right next your turbo.