PRODUCT
TURBO
TURBO SUPPORT PARTS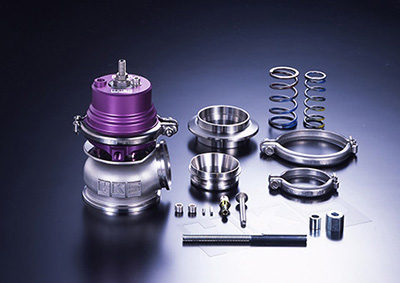 【GT II WASTEGATE】
HKS GT wastegate has big engine displacement and high supercharging pressure for smaller and lighter design. With the smaller design, there is more room for layout. And the installation with the V band makes it easier for maintenance. 2 types of valve diameter of φ60, φ50 setting can have the stable control over boost for the size of the turbocharger. There are 4 wastegate spring for φ60 and 3 for φ50(2 are already loaded for both products) attached, therefore, it's possible to change from wide range of boost pressure setting.
φ60 VALVE
φ60 valve, same as the GT wastegate but smaller and lightweight that has the about the same lift power and flow characteristics.
We have made 2/3 of lightweight of 2,246g to 1,509g compare to GT wastegate.
φ50 VALVE
φ50 valve that is same as the SPL(racing) wastegate and we made them lightweight.
We have made 3/4 of lightweight of 1,890g to 1,443g compare to SPL(racing) wastegate.
Setting for supercharging presuure
φ60 VALVE
1.58.8~98.1kPa (0.6~1.0kgf/cm2)
2.88.3~127.5kPa (0.9~1.3kgf/cm2)
3.127.5~166.7kPa (1.3~1.7kgf/cm2)
4.166.7~205.9kPa (1.7~2.1kgf/cm2)
φ50 VALVE
1.78.5~107.9kPa (0.8~1.1kgf/cm2)
2.107.9~137.3kPa (1.1~1.4kgf/cm2)
3.137.3~166.7kPa (1.4~1.7kgf/cm2)
4.166.7~196.1kPa (1.7~2.0kgf/cm2)
Small in size and lightweight, but it has the same lift amount/flow characteristic as the GT wastegate.
The upper case is made of alumite, and housing is stainless cast steel for the beautiful exterior.
Adopted G coupling for installation of upper cases and lower case.
V band is included to install the exhaust manifold.
The spring change work will be more efficient by using attached SST.

【For GT II wastegate parts
(bellofram, spring set, flange set)】
Bellofram:Set for the repair.
Spring set: For setting change for full turbine kit or setting for repair. (replacement SST attached)
Flange set: For exhaust manifold development or for repair setting.(base flange + outlet flange set)
* All build-to-order manufacturing.

【GT WASTEGATE SPRING】