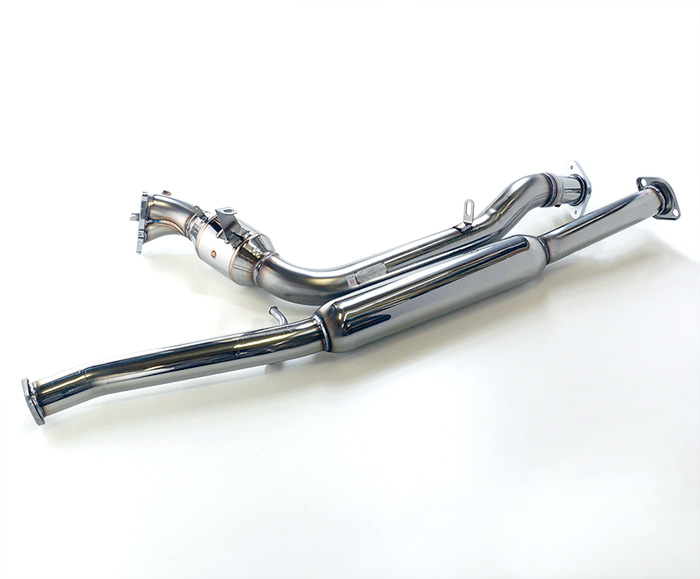 The Metal Catalyzer that has both high output and high purification system.
Impreza WRX/TA-GDA, TA-GGA/Forester/New for TA-SG5
■Other parts
■Features
Adopted 150 cell Metal Catalyzer with public organization's certificate of 10-15 mode exhaust gas test.
From turbo exit to center muffler as one Front Pipe which has extension for turbo exit.
HKS original φ65 Spherical surface gasket (stock: φ60) and main pipeφ75 (stock: φ60) is adopted which provide better exhaust performance.
Because main exhaust stream from turbine and bypass exhaust stream meet right after the turbine for stock, secondary exhaust pressure goes up. So you can't have a smooth exhaust flow. HKS has made separate type of joint part for exit from turbine which will have efficient turbo performance. (* see the graph below)
Stock has 2 catalyzer for Front Pipe and Center Pipe. But HKS has only one catalyzer for Front Pipe, so the Center Pipe is just expansion pipe that provides less resistance. Therefore in all range it has about 1.5kgf/m more torque than the stock.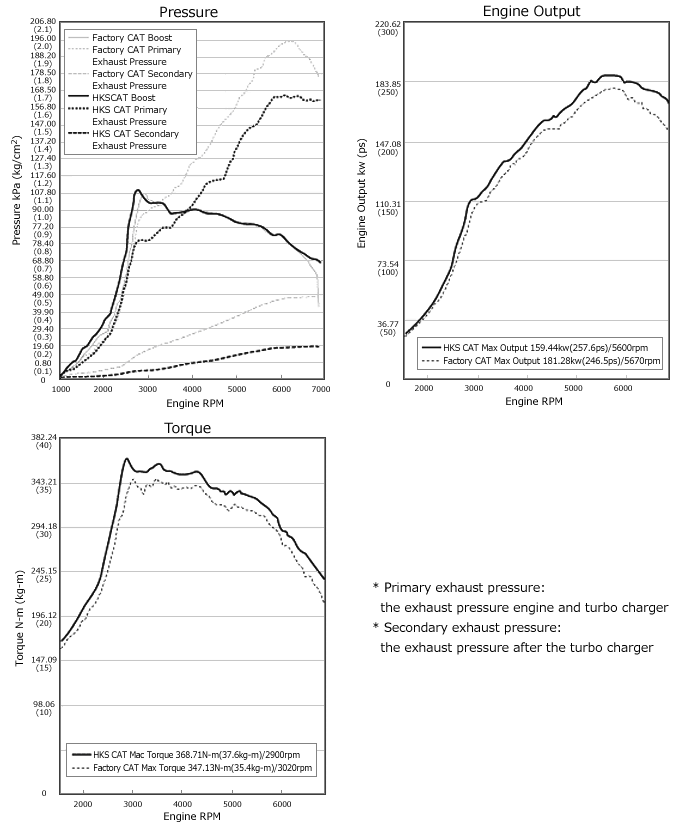 ■GDA exhaust gas test result
※Caution
Heat shield plate modification is required.
If you use it with Racing suction (Reloaded), you might need to reset the CPU because of the other parts and condition of the vehicle.
There is not enough room for injector, so you need to boost up with such as EVC or actuator. For boosting up, you need to injector, bigger fuel pump and resetting the CPU.
Compatibility with Forester applied models A to C has not been confirmed.
Impreza applied model A and B has different layout, so you can't install.
The 4-speed AT vehicle has a different layout and not compatible, because of the exhaust gas test certificate will be no effect.
* Use of this products lead to change of boost pressure characteristics. Use of this product with HKS muffler is possible, however use with other manufacturers products and use with altered boost settings may require knocking and maximum boost setting inspection. If necessary please repeat setting.