PRODUCT
SUSPENSION
HIPERMAX SERIES
Toyota 86 MAX IV GT 20 SPEC Features
Updated MAX IV GT with latest technologies. Improved stabiillty and comfort!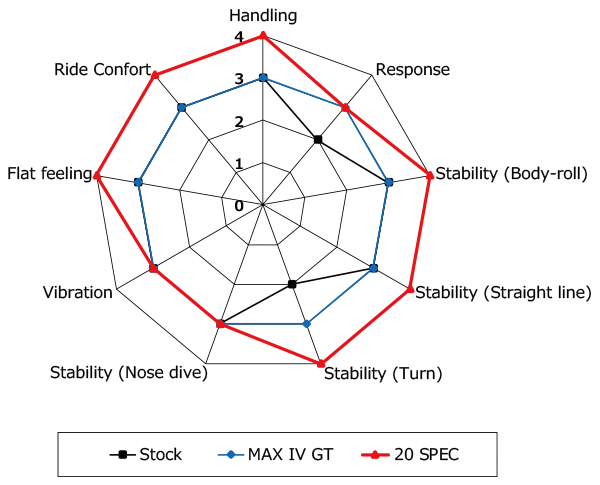 New GT20SPEC is a significant improvement over the existing product.
The old GT was already doing a great job lowing down a vehicle and improving handling over the stock suspension.
With revised spring rate and damping force and use of new developments GT20SPEC preserves comfortability while further improving handling and drivability.
New suspension is not simply more comfortable, it allows to make adjustment to weigth transfer and provides good control over the vehicle. It is an ultimate street suspension, making a daily driving exciting, sporty and comfortable.
●Preload Valve System (PVS)
Multiple valve shims of differing size and thickness are stacked around the piston which generates a resistance which becomes dampening force. PVS applies a preload to the valve shims allowing more accurate control of dampening especially at slower piston speeds
As used in MAX 4 series, M4P is able to balance dampening force generation at low piston speeds whilst maintain control at high speed

●Inverted Single Tube
Inverted Single Tube with big diameter greatly improves rigidity and provide a direct steering feeling.

●Spring Insulator
Rubber seat on the tob and bottom of the spring, helps to improve spring movement while preventing sound and reducing friction during spring expansion. A suspension was revised for easier height and preload adjustment.