PRODUCT
SUSPENSION
HIPERMAX SERIES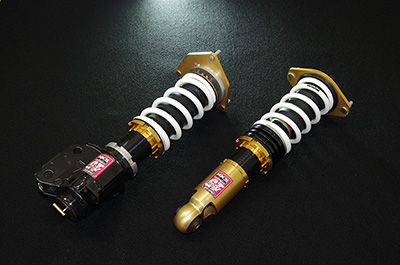 Single Tube
30 levels
Adjustable Damping
Adjustable
Shock Body
Special Oil
PNE Coating
MAX 4 Piston
Variable
Port System
Preload
Valve System
Aluminum Bracket
*1
Rubber Upper
Mount *1
Invented Type
*2
Overhaul Available
*1 Exclude a some vehicle, *2 MacPherson Strut Only


【MAX IV GT 20 SPEC】
An updated MAX IV GT with improved handling and comfort, an ulimate street suspension.
Based on MAX IV GT and updated with latest technologies. Street suspension created with consideration of comfort and stability. A suspension kit that is exciting and sporty, yet balanced and suitable for a daily driver.
* Discontinued.

single tube
30 levels
Adjustable Damping
Adjustable
Shock Body
special oil
PNE coating
MAX 4 Piston
Variable
Port System
Preload
Valve System
Aluminum Bracket
*1
Rubber Upper
Mount *1
Invented Type
*2
Overhaul Available
*1 Exclude a some vehicle, *2 MacPherson Strut Only
Single Tube Damper Design

Mono tube dampers allow for more accurate and stable control and adjustment of dampening. Lower ride height and centre of gravity gives a more stable ride.

Dust Boot

Protect the shaft from the flying stones.

PNE Coating

Using this special surface coating provides 5 times better durability over standard galvanising. This prevents build-up around the threads of the adjustment areas allowing for easier height adjustment.

Preload Valve System

An updated preload valve allows a responsive damper movement at low speed and appropiately cuts off excessive high speed damping. Reduction of unnecessary movement provides a flat driving feel.

New Design Needle

Newly designed needle has been used to revise the very low speed and middle and high speed dampening which is key to a comfort ride.

Reduction of Unsprung Weight

In order to reduce unsprung weight, bracket, ride height adjusters and lock nuts are made from aluminium. (Not for all vehicles)

30 Step Damping Force Adjustment

30 levels of dampening adjustment allow fine tune adjustment for street or circuit.