DMR
How to Update the DMR Firmware
A microSD card is required to update the firmware and settings for DMR. Download the updated file 『DMR Firmware Download』 below.
Ver.R2HDH6E (2015/4/6)
Compatible with [Time Zone] setting added to DMR viewer software (ver5.0.0.3).
Ver.R2HDH6C(2015/2/25)
The recording time length for the frame number [1.25fps] is improved.
The operation response of the main unit's control button is improved.
* Follow the instruction procedure below to update of the firmware. Improper update may cause an error during data recording.
DMR-200D FIRMWARE UPDATE
1. Eject a microSD card
Turn off the DMR power and take out the memory card after the LED light is off.
2. Insert a microSD card to a USB card reader or a similar device connected to a PC.
NOTE
The USB card reader is not included. It must be prepared separately.
3. Copying the Update Firmware
Download the data file from 『DMR Firmware Download』below.
Double-click "R2HDH6E.zip" file to make a folder "R2HDH6E Folder" so the updated firmware file "R2HDH6E.FWU" is made. Copy the file to a microSD card.


DMR-200D Firmware Download
NOTE
The updated firmware file must be copied to the root directory of the microSD card (the first or top-most directory in a hierarchy). DMR unit cannot recognize the updated file if it is copied to the folder made in the microSD card.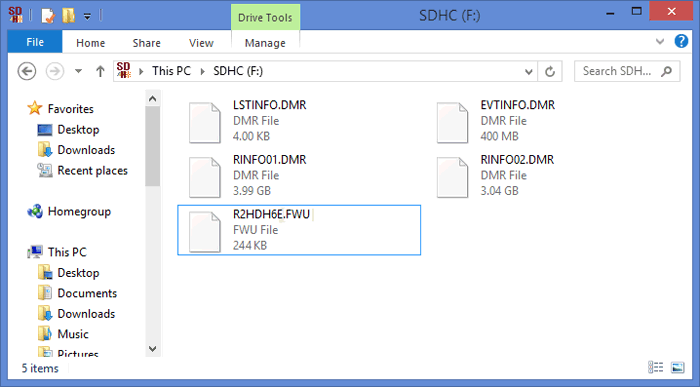 4. Update the DMR
Insert the microSD card the updated file is stored to the DMR. Turn the power of DMR on. Updating begins automatically.
After the power is on, "V-button" blinks in red, and updating of the firmware begins.
After updating is completed, the unit beeps five times (when the buzzer is set to on.), and it begins a normal operation.

CAUTION
Do not turn the power of DMR off during updating. If neglected, it may damage the product.
Confirmation of Firmware's Version
After updating, the firmware version number is shown in the setting window of the viewer mode and viewer software as shown below.

NOTE
"R2HDH6E.FWU" file remained in the microSD card can be deleted after updating is completed properly.