PRODUCT
ELECTRONICS
MONITOR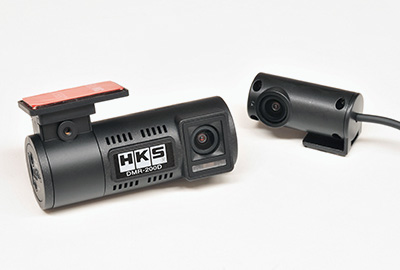 * Discontinue.

【Direct Multi Recorder 200D】
Advanced drive recorder HKS DMR is released to handle driving for various purposes!
A record of driving is one way of enjoying car life. "DMR" can record driving images from various viewpoints with 2 cameras equipped.
Smallest Size Cameras for Drive Recoder
High-definition
Image
Digital Broadcast
Compatible!
Viewer Display
Output
Variable
Cutoff
Specifications
Hardware
2 cameras are originally equipped:
Main Camera: 70mmx26mm (2Mpixel)
2nd Camera: 40mmx18mm (350Kpixel)
Variable rate 20~1.25fps enables 1GB/6 hours recording at longest.
New DMR monitor size is 1280 x 480 which enables efficient data compression.
* An extremely long period of recording time is available, and the length of time used for monitoring and recording is greatly expanded.
* Up to 64GBmicroSDXC card are supported.
Radio interference to digital broadcast, AM radio, FM radio, etc. is reduced.
* Radio interference may occur by condition.
The size of the main camera is 70mmx26mm, and second camera is 40mm×18mm, which are the smallest size available for drive recorder (as of 2014.10).
GPS & 3D sensors are equipped
Variable cutoff feature supporting continuous operation is equipped.
Variable cutoff feature allows continuous operation of the unit while the car is not running but switch off at the set voltage to protect the battery.
External image output terminal is equipped.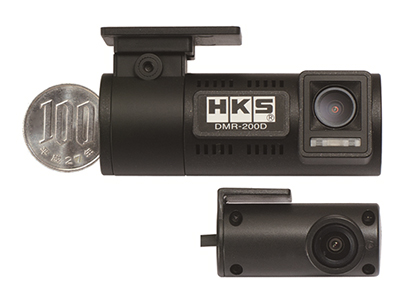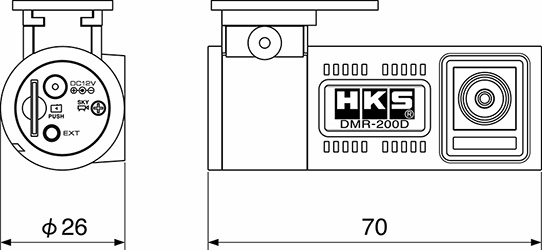 Dimension of Main Camera (mm)
Viewer Software(Downloadable from HKS' website)

Monitor size is 1280mm x 800mm
GPS signal enables location display on Google Map TM.
Seamless image obtained by HKS' unique recording method can be checked.
The complete video including the viewer data can be exported as a file.
SD Capacity
8GB
16GB
32GB
64GB
fps
DMR-200D Recording Time (hr)
20
3.00
6.00
12.00
24 (1 day)
10
6.00
12.00
24 (1 day)
48 (2 day)
5
12.00
24 (1 day)
48 (2 day)
96 (4 day)
2.5
24 (1 day)
48 (2 day)
96 (4 day)
192 (8 day)
1.25
48 (2 day)
96 (4 day)
192 (8 day)
384 (16 day)
* The time may fluctuate depending on usage status.
Main specifications
Option Parts:Infrared second camera
Replacing the second camera originally equipped with DMR-200D with this optional second camera enables recording within the inside of the infrared irradiation range (approx. 2m) in the dark (a zero lux).
Antenna Level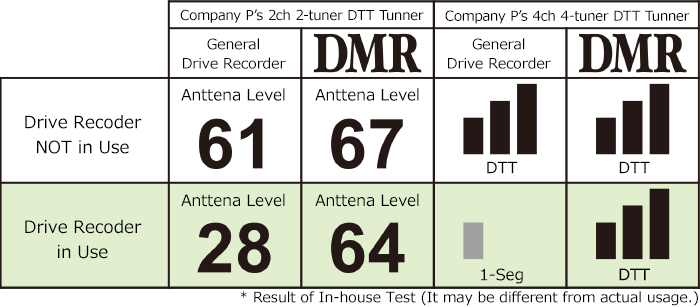 Recommended Installation Position

Digital terrestrial broadcasting on TV and 1-Seg digital TV can be watched even the DMR unit is installed 10cm away from the TV antenna.
* FM/AM/FM-VICS/GPS can be received properly.
* Radio disturbance may occur by condition.
PACKAGE CONTENTS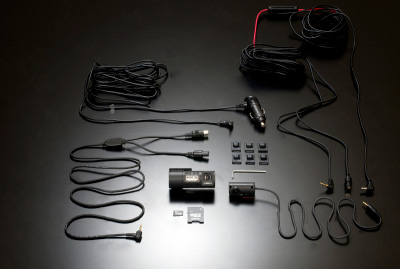 DMR-200D Main Unit
Auxiliary Adapter Cable (4m)
Continuous Power Cable (4m)
microSDHC Memory Card (8GB)
External Output AV Cable
Clips
Double-sided Tape
Second Camera
Second Camera Relay Cable (5m)
Hexagon Wrench
Disclaimers
HKS DMR is a device to record and view images to make drivers more aware of safe driving and accident prevention.
This product does not guarantee to record all images.
HKS will not be responsible for any damage or trouble caused when any image is not recorded, data is damaged, or detailed image cannot be confirmed.
DMR may be a tool to obtain important information to clarify where responsibility lies and/or the cause of the accident by recording how the accident occurs; however, it is not guaranteed that the recorded data may be effective as legal evidence.
Do not use any recorded images for improper purposes. Recorded images may contain scenes which constitute an invasion of privacy. HKS will not be responsible for any case caused by improper use of the image recorded by this product.
HKS will not be responsible for any damage caused by incorrect installation and/or use of this product.
HKS will not be responsible for any causalities and/or property damage caused by an accident. Also, HKS will not be responsible for any damage or loss of images or data caused by malfunction and/or damage of this product or the microSD card.
HKS will not be responsible for the expense of the production installation and/or removal and the loss caused by the period the vehicle cannot be used.
LED traffic signals, lamplight of vehicles and lightings blink at high speed which is invisible to the human eye; therefore, the image of the signal may not be recorded as it blinks. If these LEDs were not recorded, determine from the situation/circumstances using images before and after. HKS will not be responsible for any incident caused by the fact that the LED traffic signals, lamplight of vehicles and lightings cannot be recorded.
Route the power cable away from the antennas and/or conductors of other devices. Failure to do so may cause poor reception by the electromagnetic waves emitted from this product.
Check the recorded images on a regular basis to maintain this product and the microSD card.
To play the image recorded by this product, a PC meets specifications described in page 2 and microSD card/SD card reader are required.
HKS will not be responsible for any damage caused by disclosure of personal information to an unintended third party resulting from loss of this product.
The specifications of this product are subject to be changed without notice.