PRODUCT
SUSPENSION
HIPERMAX SERIES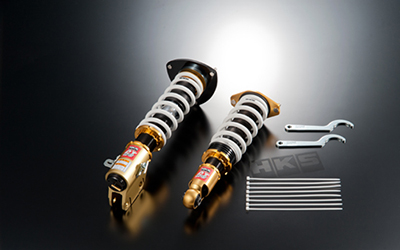 Single Tube
30 levels
Adjustable Damping
Adjustable
Shock Body
Special Oil
PNE Coating
M shaft
*1
MAX 4 Piston
Variable
Port System
Aluminium
Bracket *2
Front Adjustable
Pillow Upper
Mount
Rear Rubber
Upper Mount
Overhaul Available
*1 Upright Type Only *2 Exclude a some vehicles


【MAX IV GT Spec-A】
Ultimate Street Damper with Latest Theory Based on MAX IV GT
"MAX IV GT Spec-A" was developed based on the thought of what is the best for a street sports damper eliminating the stereotype of the aftermarket sports damper.
Experience the mild damping and profound ride feeling from the moment on the accelerator is stepped on.
* Discontinued.
single tube
30 levels
Adjustable Damping
Adjustable
Shock Body
special oil
PNE coating
M shaft
*1
MAX 4 Piston
Variable
Port System
Aluminium
Bracket *2
Front Adjustable
Pillow Upper
Mount
Rear Rubber
Upper Mount
Overhaul Available
*1 Upright Type Only *2 Exclude a some vehicles
Single Tube Damper Design

Mono tube dampers allow for more accurate and stable control and adjustment of dampening. Lower ride height and centre of gravity gives a more stable ride.

Dust Boot

Protect the shaft from the flying stones.

PNE Coating

Using this special surface coating provides 5 times better durability over standard galvanising. This prevents build-up around the threads of the adjustment areas allowing for easier height adjustment.

"M Shaft"

With the new design of cylinder shaft since the HIPERMAX M-1, MAX IV increased the cylinder shaft size to have a firm damping even at a little stroke range because of the optimized oil pressure characteristic. We mainly adopted this to the rear damper that can have a better driving experience.

New Design Needle

Newly designed needle has been used to revise the very low speed and middle and high speed dampening which is key to a comfort ride.

Reduction of Unsprung Weight

In order to reduce unsprung weight, bracket, ride height adjusters and lock nuts are made from aluminium. (Not for all vehicles)

30 Step Damping Force Adjustment

30 levels of dampening adjustment allow fine tune adjustment for street or circuit.

Secured Effective Stroke Length

For a vehicle height adjustment type suspension, the wide adjustable range is one of advantages. "MAX IV GT" and "S-style" series have wider vehicle height adjustable ranges for a wide variety of purposes of use. However, for "MAX IV GT Spec-A", unused range for vehicle height adjustment is utilized in the effective stroke length for ride quality improvement and higher and more stable driving performance.

New Design Bump Rubber

Newly designed bump rubbers act as sub-springs across a wide bump range enabling the main spring rate to be reduced which provides the stable and superior driving performance.

Rally driver Mr. Toshihiro Arai

Rally driver Mr. Toshihiro Arai joined testing and his experience and feedback was utilized to finalize the setup. High ride quality and superior driving performance are implemented in an extremely high level.