PRODUCT
SUSPENSION
HIPERMAX SERIES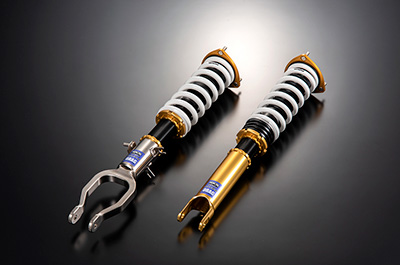 Single Tube
30 levels
Adjustable
Damping
Adjustable
Shock Body
Special Oil
PNE Coating
Aluminium
Bracket
Pillow
Upper Mount
Overhaul
Available


【MAX IV SP DRAG】
Return of Drag Specification Dampers
Introducing the latest technologies to suit modern drag racing requirements
The drag suspension designed based on HIPERMAX II Drag Suspension.
Parts such 300mm long spring, helper spring, etc. are selected for each vehicle model to maintain sufficient stroke amount and traction.
The shock-body length adjustable type is chosen to widen the vehicle height setting range and stroke distribution.
This drag suspension guarantees its performance in drag race.
single tube
30 levels
Adjustable
Damping
Adjustable
Shock Body
Special Oil
PNE Coating
Aluminium
Bracket
Pillow
Upper Mount
Overhaul
Available
Single Tube Damper Design

The single tube damper design was selected from well-established HKS suspension.
Its large diameter piston contribute excellent response and traction assurance.

Dust Boot

Protect the shaft from the flying stones.

PNE Coating

Using this special surface coating provides 5 times better durability over standard galvanizing. This prevents build-up around the threads of the adjustment areas allowing for easier height adjustment.

Pillow Ball Upper Mount

With the pillow ball upper mount, the shock absorber detects fine movement and generates accurate damping force from the beginning of stroke. Unnecessary movement is reduced and stable driving is possible.

New Design Needle

Newly designed needle has been utilized to adjust the damping characteristics of the very low speed and middle and high speed dampening to pursue the linear change across entire speed range.

Reduction of Unsprung Weight

In order to reduce unsprung weight, bracket, ride height adjusters and lock nuts are made from aluminum. (Not for all vehicles)

30 Step Damping Force Adjustment

30 levels of dampening adjustment allow fine tune adjustment for each tire and course conditions.