PRODUCT
SUSPENSION
HIPERMAX SERIES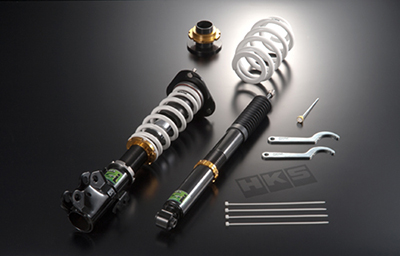 Single Tube
30 step
adjustable damping
all adjustable
Special Oil
PNE Coating
M shaft
reinforced rubber
upper mounts
inverted
(strut type only)
specification
changeable
overhaul available


【HIPERMAX S-style L】
The ultimate all-rounder for the low stance enthusiast.
HKS S-style L was designed to be highly reliable in various uses under any conditions. This new damper is recommended to preserve or improve the ride quality after upgrading tires and/or lowering the vehicle height. The driver can change the ride characteristics at will.
* Discontinued.
single tube
30 step
adjustable damping
all adjustable
special oil
PNE coating
M shaft
reinforced rubber
upper mounts
inverted
(strut type only)
specification
changeable
overhaul available
Single tube Design

A mono-tube suspension structure was utilized for high durability, and comfort even in the harshest driving conditions.

Dustboots Standard

Shaft damage by rocks and pebbles from bouncing onto the shaft can be prevented.

PNE Coating

PNE Coating's corrosion resistance is 5 times as much as the galvanization's. This coating can protect against rust, and its smooth surface requires less force to adjust the ride height than conventional dampers.

M-Shaft for 46mm Standard Type

The "M-Shaft" which was designed for HKS HIPERMAX series' flagship model of "M1" is also utilized. Enlarged cylinder diameter optimizes the oil pressure's characteristics and maintains the dampening even at subtle stroke range. Especially the M-Shaft on rear side improves the ride quality.

High Flow of Linear Piston

Linear progression piston adjusts oil passages for precise stroke management resulting in smoother valve movements. As piston speed increases, dampening rate linearly increases.

Strengthened Rubber Upper Mounts

Ride quality of city street driving can be improved. Durability is enhanced, and noise is reduced.
* Some automobiles has options for pillow upper mount.

Aluminum Lock Nut & Ride Height Adjuster

The anti-rust and corrosion characteristics for enhanced durability are featured. Using these can trim weight below the spring.

30-way Adjustable Damping Force

A wide variety of dampening settings based on the driving conditions and/or number of people on a vehicle is available.