FEATURED CAR MODEL
86/BRZ
86/BRZ SUSPENSION TUNING
Next Generation suspension MAX IV series will upgrade the drivability of the 86/BRZ to the next level!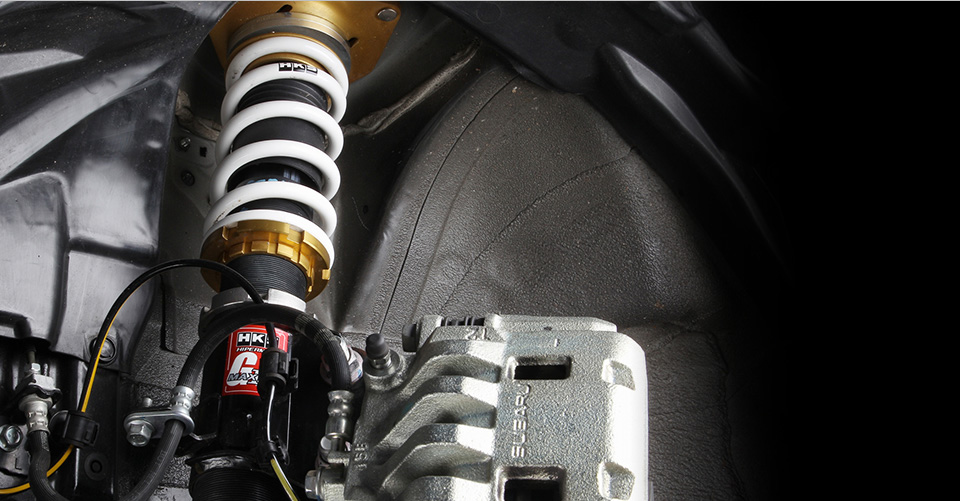 Suspension that is safe and fun to drive.
We have done test over and over with our thorough analysis of MAX IV series. We developed to have a safe and still fun to drive suspension by analyzing the spring rate, damping force, balance and stroke of the front and rear. For the best function, we adopted the needle to pursuit best damping characteristics. To have a good handling and comfortable ride, it's very important to have the good low and mid-high RPM range stability.
2 Types of MAX IV, (GT & SP)
MAX IV series has 2 types, "GT" and "SP". "MAX IV GT" is for daily drive in the street and still go to circuit for a race. "MAX IV SP" is more for circuit drive than the daily street drive.
【HIPERMAX S】

Creating the new standard "Driving Comfort"

After 9 years from the launch of MAXIV GT, new HIPERMAX S series was born for the superior "Driving Comfort" with advanced features in damping force, durability and appearance.

【MAX IV GT 20 SPEC】

An updated MAX IV GT with improved handling and comfort, an ulimate street suspension.

Based on MAX IV GT and updated with latest technologies. Street suspension created with consideration of comfort and stability. A suspension kit that is exciting and sporty, yet balanced and suitable for a daily driver.

This photo is the product for other vehicle.
The front bracket for 86/BRZ is made of steel (black).

【MAX IV SP】

The sport model to have a comfortable drive even in the winding road.

MAX IV SP Specification

Spring Rate(N/mm (kgf/mm)) = F:78(8)/R:78(8)
Spring Free Length (mm) = F:170/R:150
Upper mount = F: adjustable pillow / R: Fixed Pillow

【MAX IV GT】

Awesome control and comfort ride on the street for a sporty drive. The new Max IV sporty suspension.

MAX IV GT Specification

Spring Rate(N/mm (kgf/mm)) = F:59(6)/R:39(4)
Spring Free Length (mm) = F:170/R:170

【HIPERMAX G】

- Obsession with High Quality -
Integration of quality over cost principles of tuning parts and benefits and compatibility gained from OEM design.

HIPERMAX G Specification

Spring Rate(N/mm (kgf/mm)) = F:27(2.8) / R:44(4.5)
Spring Free Length (mm) = Fixed
Upper mount = F:Stock / R: Stock
* Only for BRZ.

【MAX IV GT Spec-A】

Ultimate street suspension redesigned with a latest theory based on MAX IV GT

"MAX IV GT Spec-A" was designed by eliminating the stereotype of aftermarket sporty suspension and reconsidering what the best aftermarket suspension is able to deliver sporty performance on a street. Experience its mild ride comfort and reliable drivability from the moment the accelerator is stepped on.

This photo is the product for other vehicle.
The front bracket for 86/BRZ is made of steel (black).

【MAX IV SP】

The sport model to have a comfortable drive even in the winding road.

MAX IV SP Specification

Spring Rate(N/mm (kgf/mm)) = F:78(8)/R:78(8)
Spring Free Length (mm) = F:170/R:150
Upper mount = F: adjustable pillow / R: Fixed Pillow

【MAX IV GT】

Awesome control and comfort ride on the street for a sporty drive. The new Max IV sporty suspension.

MAX IV GT Specification

Spring Rate(N/mm (kgf/mm)) = F:59(6)/R:39(4)
Spring Free Length (mm) = F:170/R:170

【HIPERMAX G】

- Obsession with High Quality -
Integration of quality over cost principles of tuning parts and benefits and compatibility gained from OEM design.

HIPERMAX G Specification

Spring Rate(N/mm (kgf/mm)) = F:27(2.8) / R:44(4.5)
Spring Free Length (mm) = Fixed
Upper mount = F:Stock / R: Stock