[RACING SUCTION RELOADED]
Vehicle specific design to maximize induction performance.
Vehicle specific suction pipe design. Angle and length of pipe are for enhanced induction efficiency. It is effective for quick response for NA engines and higher performance for turbocharged engines.
* Discontinued.
---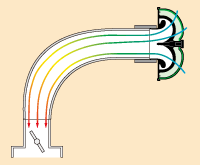 Point
With stock suction system, induction air hit to corrugated portion of hose and makes swirl and resistance. The specially designed pipe reduces corrugated portion and gap inside pipe to make air flow smoother.
---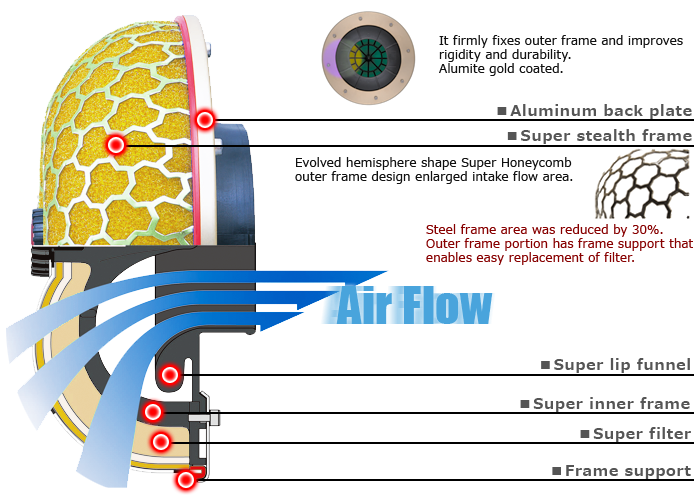 Features

Frame Support
It fits to aluminum back plate softly and fixes Super Stealth Frame firmly. It will also be a guide for filter to surface of the hemisphere that make easy for replacement work of the filter.


* Dry type replacement filter can be used.
Wet 2 Layer Filter
Wet 2 Layer Type Super Filter has been used and proofed long time. It reduces intake resistance and special high viscosity glue has high dust collection performance.
---

Super Inner Frame
Shape of inner frame is streamline. 16 frames are lightweight and they guide air flow smoothly.

Super Lip Funnel
Super Lip Funnel design was developed to maximize intake efficiency in limited space. High intake efficiency and compact design that enables various layout of intake system in engine compartment are highly balanced.
---
---

Racing Suction R

Racing Suction R * Discontinued.