- DISCONTINUED -

[HKS SEQUENTIAL TRANSMISSION]
Through our many years of motor sport activities, have felt the need for the development of a transmission that can be used to accurately transfer engine torque at even the highest levels such as drag racing. Development from years of experience in the drag, drift, time attack and circuit racing, helped us design and develop fine transmission. We have done enormous testing and the production now take place "in house" to ensure the feedback from racing to directly into the production team.
- The end of sales & overhaul - new
---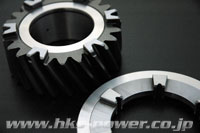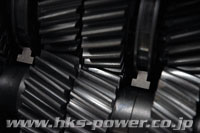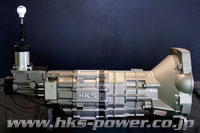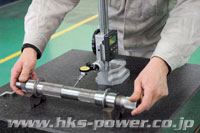 Dog Engagement System For Strength And Reliability
A dog engagement system offers more power transfer capacity compared to synchronic systems giving added strength and reliability and with correct driver operation, fast shifting is possible.
Helical Gears Used To Reduce Gear Noise While Maintaining Strength.
High strength materials are used for the gears combine with a helical gear design which slants the teeth at an angle. This allows more gear area to mesh which improves strength and also significantly reduces noise that is associated with spur gear type transmissions.
High Strength And Durability from a Specially Designed Case.
High Strength/Durability
High strength and durability can be achieved over kits which include specially designed case. This case was redesigned to give maximum strength and efficiency as for each part is well-managed.
Efficient & Easy Installation
Efficient and easy installation is possible as the whole unit is assembled designed with minimal modification to the body or chassis necessary for installation.
Original Design Sequential Transmission

Using a barrel cam which converts the vertical shift pattern to that of an H pattern has allowed HKS to create a sequential transmission based on a reliable manual transmission base. Quick and accurate gear changes are now possible with particular attention paid to the weight and stroke of each gear change to give a racing feel to your car.
6th gear of H pattern transmission has sequential system which creates the 5-speed sequential transmission with direct gear ratio of 5th gear. This type of transmission is very practical for drag races and drift driving; however, shifting to a final gear is usually a problem to achieve the maximum speed. Low gear ratio type HKS Sequential Transmission is available to solve this problem.
Overhaul Service is Available
For the optimal performance of HKS Transmission series, regular maintenance is required. HKS provides professional maintenances using in-house transmission bench and other necessary overhaul equipment. Maintenances and overhauls are implemented after detailed examination of a transmission's condition.
* It is recommended to maintain (or overhaul) HKS Transmission every 1,000 to 3,000km. If neglected, gears and/or dog parts may be damaged.
* HKS GEAR OIL G-1200 must be used.
---
Gear Ratio
MT Type
Gear Ratio
1st
2nd
3rd
4th
5th
6th
HKS standard 5th
2.773
1.984
1.548
1.246
1.000
-
HKS standard 6th
2.773
1.984
1.548
1.246
1.000
0.807
HKS low gear 5th
2.971
2.094
1.548
1.246
1.000
-
HKS low gear 6th
2.971
2.094
1.548
1.246
1.000
0.807
---

HKS SEQUENTIAL TRANSMISSION

HKS SEQUENTIAL Version Up Kit