GR YARIS
CUSTOMIZED PARTS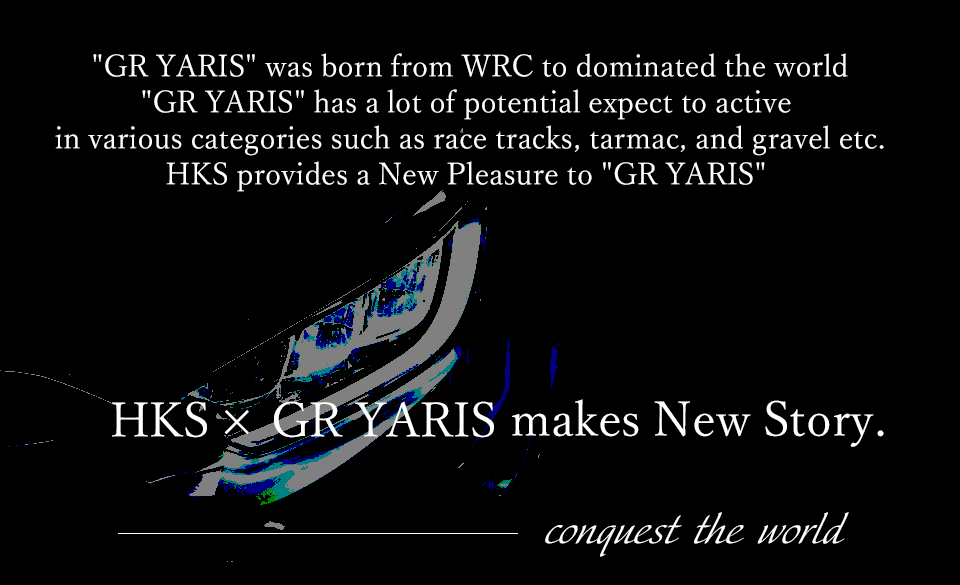 GR YARIS 
parts lineup
Code No.
Product
Remark
EXHAUST
31021-AT006
LEGAMAX Premium
31029-AT006
Super Turbo Muffler
Not compatible with RS (1.5L FF) and the vehicle with GR rear bumper spoiler.
31019-AT114
Hi-Power SPEC-L II
Tail cover size: φ94 L=118 B. (2 pcs needed)
No compatible with RS (1.5L FF) grade.
Not compatible with the vehicle with GR rear bumper spoiler.
Not compatible with RC grade using the stock 17-inch tires.
To be developed
METAL CATALYZER
SUSPENSION
80300-AT025
HIPERMAX S
80250-AT005
HIPERMAX MAX IV SP
This product is develop with JDM spec
that called RZ High performance 1st edition(AWD)
INTAKE/BLOW OFF
70028-AT002
RACING SUCTION
70017-AT130
SUPER AIR FILTER
To be developed
COLD AIR INTAKE
To be released in the autumn of 2022
To be developed
SUPER SQV Vehicle Specific Kit
To be released in the summer of 2022
TURBO
To be developed
SPORTS TURBINE KIT
COOLING
13001-AT008
INTERCOOLER KIT
Water spray bracket (13999-AT001) is required
for use with stock intercooler water spray.
13999-AT001
WATER SPRAY BRACKET
This product can only be used in conjunction
with the Intercooler Kit for GR Yaris (13001-AT008).
15004-AT013
OIL COOLER KIT
Standard Installation Time: 5~6 hours.
Check the oil gauge and adjust the oil level
to the correct level.
ENGINE
24996-AK052
FINE TUNE V BELT 6PK1148
For GR YARIS 4WD.
ENGINE SPECIFIC OIL
52001-AK122
SUPER NA RACING 0W40 4L
For LSPI
52001-AK125
SUPER TURBO RACING 5W40 4L
For LSPI
To be developed
OIL FILTER
PLUG
To be developed
SUPER FIRE RACING PLUG
OTHERS
70026-AT006
Carbon Engine Cover
100% Replacement Type
70026-AT007
CARBON FUSE BOX COVER
This product needs stock fuse box cover
(Not Replacement Type)
51007-AK376
HKS FLOOR MAT GR YARIS FRONT SET
51007-AK377
HKS FLOOR MAT GR YARIS FRONT/REAR SET
15009-AK005
RADIATOR CAP
MXPA12:N-type 108kPa (1.1kgf/cm2)
GXPA16: Not applicable
Products to be developed is subject to change without a prior notice.
DEMO CAR